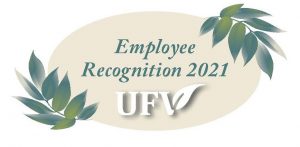 Every spring, UFV celebrates the achievements of its faculty and staff by conferring excellence awards in a number of categories.
This year is no exception. Although it wasn't possible to celebrate them in person this year due to COVID-19 restrictions, we are very proud of the following recipients:
In addition to the Service Excellence award winners, we would also like to offer our sincere appreciation to the 109 employees celebrating milestone years of service! Because of your commitment and dedication, UFV is a wonderful place to work and learn, and you all play a huge part in our success! Congratulations to:
10-Year
Edward Akuffo
Rebekah Brackett
Leandra Chapman
Laura Crawford
Heather Davis-Fisch
David Dobson
Tracy Evans
Marla Fralick
Korina Gratton
Moira Guzyk
Jerry Haak
Casandra Hincks
Alastair Hodges
Mike Ivanof
Lesley Jessiman
Kelly Koch
Ghizlane Laghzaoui
Sitaniselao (Stan) Manu
Sheldon Marche
Kate McCulloch
Hayli Millar
Veronica Moore
Christine Nehring
Lenore Newman
Christina O'Brien
Marcel Offroy
Leon Pan
Prabhjot Parmar
Melania Popescu
Egor Rapoport
Sherry Rempel
Valerie Ruddick
Meinda Saretzky
Navneet Sidhu
Awneet Sivia
Liana Thompson
Benjamin Vanderlei
15-Year
David Anderson
Satwinder Bains
Darren Blakeborough
Gianina Bocsanu
Jason Brandenburg
Joanne Brands
Shelley Canning
Karen Chadsey
Susa Duncan
Shelley Engen
Amanda Grimson
Karen Hadden
Jonathan Hughes
Nicholas Johnson
Beverly Jones Redekop
Raymond Leung
Keith Lownie
Leona MacDonald
Andrea MacPherson
Nirvarjot Mahil
Michael Maschek
Kim Mines
Samantha Pattridge
Emiko Petit
Ravinder Philips
Steven Schroeder
Scott Shupe
Rodney Smith
Sheila St. Laurent
Deanna Stelting
Cindy Stewart
Shelaugh Thomson
Debbie Ward
Alisa Webb
20-Years
Donna Alary
Kevin Antonishen
James Carson
Shannon Draney
Celeste-tina Hernandez
Nicole Klassen
Darlene Labbe
Mary-Anne MacDougall
Lorne Mackenzie
David Milobar
Gillian Mimmack
Sean Parkinson
Talia Q
Cindy Rammage
Peter Rasquinha
Heather Robertson
Tara Rozenek
Rupinderjit Sidhu
Patrick Taddy
Candace Taylor
Hamish Telford
Elicia Tournier
Ron Zitron
25-Years
Sandra Cavan
Daphne Cockerill
Bryan Daniel
Gregory Davis
Vladimir Dvoracek
Sharon Gillies
Colleen Heron
Gordon Jang
Alyson Seale
Christine Slavik
Rhonda Snow
Anthony Stea
Katherine Watson
30-Years
Anne Russell
35-Years
Ken Humbke
Thanks so much for all you do for UFV.
See photos here.