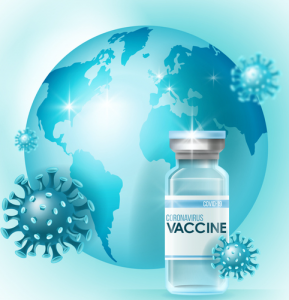 It's exciting and encouraging to hear that we are on the verge of reopening – we'll be able to eat in our favorite restaurants again, hit the gym for a great workout, satisfy our travel bug and yes, open the doors to our University so our students can once again receive the full experience of their educational journey!  It will be amazing to return to something vaguely resembling normal. But of course we are also feeling anxiety, fear and uncertainty about reopening which is completely normal. We've become accustomed to working from home and it's where we feel safe, secure and comfortable. What will work look like post-pandemic? We don't know the answer to that question — it is definitely going to take time, patience and understanding to help us get through this next phase. But we are listening to our top medical experts and believe that the biggest advantage we have on our side and the single most important thing we can do right now is get our COVID-19 vaccines.  Below are some "vaccine stories" shared with us by employees and we hope they give you some sense of peace and hope for a brighter future.

Anne Russell
I was being a good Canadian and patiently waiting my turn in late March, when I heard that B.C. was doing a sudden pivot and reallocating Astra Zeneca vaccines that were intended for frontline workers.
With a sudden hesitancy to give it to people under 55 or over 65 due to risk of clots, the government announced that 55-to-65-year-olds were now the only group eligible for it, and that we could get it immediately at pharmacies. At this point, the age-based clinics were still restricted to those over 67.
I decided to be a good citizen and seek out the AZ, but quickly discovered that this shift was so sudden even pharmacies were not clear on the rules.
And there was an added twist: although my husband and I were both born in April 1966, we were not due to turn 55 for a few weeks. It was not clear from government communications whether one needed to actually be 55 or turning 55 in 2021.
After trying unsuccessfully to get through to my pharmacy by phone all day on March 31, I decided to head out in person at 4 pm for the Chilliwack Shoppers Drug Mart, my home pharmacy. But as I was heading out the door a journalist friend messaged me that there was surplus supply at the Vedder Shoppers. So I headed there in a hurry, feeling like someone seeking a Tickle Me Elmo toy at Christmas in 1998 or toilet paper in 2020, only to find that the supply was gone by the time I got there. The clerk there told me that I would indeed be eligible as I was due to turn 55 in 2021.
On my way to Chilliwack Shoppers, I stopped at Sardis Shoppers on the off chance that they had some end-of-day surplus, to no avail. But the clerk there also said I should be eligible.
But when I got to my "home" Shoppers in Chilliwack, the clerk told me that I would not be eligible until I actually turned 55, more than two weeks away, and refused to register me.
Although I knew that my turn in the age-based system run by Fraser Health would come within the month, I felt a strong desire to get a shot in my arm as soon as I could. Part of it was a fear that I would get COVID while waiting my turn, kind of like a soldier getting injured or killed days away from Armistice. But I also felt part of a global civic movement. The more of us who could get immunized as soon as possible, the more effectively we could battle this pandemic, or damn-demic, as I'd taken to calling it. My government was asking 55-65-year-olds to step up and take the shots the younger frontline workers couldn't, and by doing so we could get the other types of vaccines to the frontline workers sooner.
The next day, I saw on Facebook that an acquaintance had heard about drop-in times at the Whatcom Shoppers, so I took a late lunch and rushed there at 3 pm, only to find a fellow UFV employee doing her 15-minute wait after the shot and informing me that they had just run out.
I had to get strategic. I had heard about some friends in Agassiz who had successfully been jabbed right away, so after a break from my quest on the Easter weekend, I tried dropping into the pharmacy there, after confirming with my local MLA that yes, anyone born in 1966 was eligible, whether we'd had our birthdays yet or not.
So over the river I went after work, a friendly visitor from neighbouring Rosedale hoping my Agassiz neighbours could help me out. It was promising. The Agassiz Shoppers put my name on a hand-written list and said they'd call when they got some.
The next morning, I saw a post on the Life in Agassiz Facebook group saying that the independent Rexall pharmacy had a supply. So over the river after work I went again. This time the friendly pharmacy student agreed I was old enough, and actually set an appointment time for the following Monday.
And so it was that on April 12, my not-quite-but-almost 55-year-old husband and I got our jabs as an early birthday present and felt both a great sense of relief and happiness that we were doing our part in the battle against COVID-19. We got the AZ in Agassiz!
Beverly Jones
My April 22 Facebook post is below. I got the AZ and feel good about it.
Pharmacist: "Any questions?"
Me: "I'm just glad to be here"
Tears of relief. A little bit awkward in the middle of Costco!
I hope it's approved for children soon.
Cathy Brooks
I had my first "jab" on April 9/21 of AstraZeneca vaccine. I was a bit nervous about this vaccine because of all the "clot" information on the news but my doctor said it was safer to get it than to not get it. I had a sore arm for a few days, as well as a headache and felt fatigued. This went on for a few days but I usually have a reaction to the yearly flu shot so I was not surprised.
I will be getting my 2nd "jab" soon I hope.
Tsitsi Chizengeni
I walked into the pharmacy on King Road & McCallum around 12 pm on April 26 to ask if they had the vaccine. I was asked to sit and provided forms to complete and wait. I was very happy to be able to get the vaccine when I had gone in to ask if they had it. Mind you, prior to that I had signed up with NewGen Pharmacy and had given myself a 5-day window. Nothing had happened within the 5-day window so of course this was the best for me.
I was in the office that day, finished the day ok. After dinner I felt nauseous and thought my system was not happy with my dinner. Had a headache in the middle of the night and tried to go back to sleep hoping it would go away. In the morning I decided maybe getting some fresh air would help so went from a walk. Around 8am I told Shawn I was not well, cancelled meetings and tried to go back to bed. I felt loopy and achy and my daughter called me and said  I had the "AstraZeneca  hangover". I have heard dose two is worse but I am ready as I will take some pain killer after I get the shot!
I love to travel and getting the vaccination is good for me. I also took to heart what Dr.Henry said about protecting one's family and self, that's my contribution to the community.
Susana Paulin
I registered with 4 different pharmacies, and the first to call me was Costco. I booked the earliest appointment I could get. I was a bit hesitant about getting Astra Zeneca, but that was what was available, and at my age I thought I was safe for blood clots. I had a very strong reaction, with fever and chills, and felt very tired on the next day, but symptoms disappeared after 24 hours. I can't wait for the second dose, trying to do my bit to get back to normal as soon as possible.
Christine Zapisocki
Words that I would use to describe my experience are easy peasy! When the Province announced that pharmacies were set up for vaccinating, and my age group (64) could book an appointment I used the online system to book my appointment at MacCallum Pharmacy. I went online on April  19 and was able to book my appointment for April 20! When I arrived at the pharmacy there were no line ups and the pharmacist was able to see me immediately. He could tell I was very nervous, and took the time to talk to me about the AstraZeneca vaccine, what the dangers were, and who was being affected. He did an excellent job putting the risks into perspective and setting aside my reservations. I barely felt the shot and the only shot symptoms I had was a sore arm.
Because I was advised to watch for blood clotting symptoms between day 4 and 14 after the vaccine I remained a tad nervous. On day 15 I celebrated both getting my vaccine virtually with friends and a slice of pie from After Thoughts Bakery.
Debbie Dyck
We opted to get the first one available through London Drugs, which was AstraZeneca. Vaccination appointment was booked quickly and on time when we arrived. Getting the vaccine was relatively painless but I did have side effects for about 24 hours which included chills, body aches, and headache. The side effects were to be expected but I was a bit anxious due to the vaccine being so new.
I am happy we received the vaccine as the health authorities have indicated that even if we contract COVID-19 we would be likely less sick than an unvaccinated person and avoid hospitalization. I also feel like I am protecting the people I care about and want to be around, as well as the general public.
Michelle Vandepol
It was easier than I thought. The longest part of the process was waiting for the text to book an appointment. I registered quite a while ago and received my invitation via text last week and booked for several days later.
I experienced a bit of soreness in my arm that evening, but with it a great emotional reassurance that my body was preparing its immune response and I was doing what I could to contribute to community immunity. I did go to bed quite early that night and took extra vitamins. So thankful for the BC Healthcare System and many community volunteers.
Mark Pearson
I'm a singer (on the side!) and often have jingles running through my head.  Well, today's jingle is "Jolene" by Dolly Parton but replaced with the word "vaccine" (not sure why!) which reminded me of the day when I recently received my Covid19 vaccination.
I had signed up with my local pharmacy and got the call to come in at the end of April.  I sat in the waiting area, eagerly awaiting my turn when all of a sudden, a woman who had just received her vaccine burst through the door of the pharmacy consultation room wearing . . .  A SUPERHERO CAPE!   Of course, she and I both had masks on but we could tell that we were both smiling from ear to ear.  I laughed and said "that is awesome"!  As she walked through the store, you could hear the eruption of reactions of happy people celebrating a milestone day for her, but also for our community I think.  I could almost see the entire store of customers "clapping her out" to her car.  Needless to say, my Covid 19 vaccination day is one to remember!
Leonne Beebe
I got my vaccine on Wednesday, April 7th. All went well until the following Thursday. My lymph nodes under my left arm began swelling as did my left arm between my shoulder and elbow. I went to the ER and they gave me an antibiotic prescription and told me to take Benedryl as it could be an allergic reaction. That didn't work, so I went back to the ER on the following Sunday. By this time, my upper arm was burning, and the red patch was spreading; it was also very itchy and painful. They gave me a stronger antibiotic. The doctor and nurse at my second ER visit said this was common, and they had seen this before. I haven't heard anybody say this has happened to them, nor have I read anything about this. I still have a faint scar-like red area on my arm from the infection.
Long story short – most of my upper arm turned red, and it looked like a very bad sunburn. It took about four weeks for the swelling and redness to go down and another two weeks for the itching to go away. The skin peeled off in layers like a sunburn. As it turned out, I had an infection from the injection. I didn't tell people because I wanted them to get their vaccine and not think they would have the same problem as I did.
I am glad I was vaccinated, and I will be cautious about my second vaccine.  I'm looking forward to visiting with my granddaughter and being able to play with her and hug her.  We all need to get vaccinated for our families, especially the elders and children.  I invite all my friends to get vaccinated too.
Diana Aguilar
I initially had an appointment for Monday, May 10th, and my husband had his on Monday 8th. I accompanied him, and when he asked if it was feasible for me to be vaccinated at the same time, they were very kind and confirmed that it was possible. Usually, this happens when there are cancellations, and if the daily shots are not used, they will not be longer usable. I was excited and happy that our vaccine was the Pfizer.
The process was very straightforward and organized. The health staff was very patient, careful and highly caring on the understanding of each step. They even put smiley faces on the post-it that indicated the 15-minute waiting time.
Getting vaccinated made me feel blessed! I am from Colombia, where, unfortunately, the vaccination rate has been quite low. Most of my friends are looking to be vaccinated and don't have the option yet. So I think that we are very lucky to be in Canada and having the chance of getting vaccinated. In our case, we did not get any side effects, so the happiness was even higher!
Marnie Wright
I've always felt that I am healthier than I deserve to be.  I am lucky enough to go for years without even needing an Advil. I know that many people are not as fortunate.  When it came to getting vaccinated, I was lucky to get my jab of Pfizer in late April.
My motivation was entirely out of concern for my family.  My sister is a nurse and has told me stories about individuals who have become very ill – to the shock of their families who found it beyond their imagination that a young health person could be taken by the disease.  This prompted my partner and I review our financial plans, ensure our wills were updated, so that if the unimaginable happened in our home, my step son would not be further burdened by a lack of planning on our part.
Twenty years ago, my mom and I bought a house together in Saskatchewan in the small town she was raised in.  Owning that home, returning to her roots has brought my mother a great deal of happiness.  We talk every week about plans for the house and garden.  My mom would have a difficult time without my help, financially and emotionally.  I can't afford to not be there for her.
I got vaccinated to ensure that the people who count on me can sleep easy, knowing that I will always be there for them. It was about an hour in duration, my only symptom was a sore arm – well worth it considering the emotional relief.
RoseAnne Timbrell
I was able to get my jab April 8. I've been holding my breath since last year. My husband and I have our mothers living with us. My mom is 84 and my MIL is 78. Both have been home since March 2020. My husband is RCMP, and I am also considered essential as a therapist (I do this part time and full-time professor).
So, the day of, I am super stoked. I arrive fill out paperwork and sent to a table with a nurse. I sit down and begin to cry. The nurse asks if I am ok, I reply yes, I am super happy and relieved as I know I am privileged to get the Pfizer vaccine. I was so relieved, as it one part of the pandemic that is over. I will wear a mask until I get my second shot and continue to wear a mask. No sore arm, just super tired the next day for about 12 hours – kind of like the feeling you get when you know you are getting a cold or the flu. I rested and was good to go after that.
That is my story. PS don't cry with a mask on, you can't wipe your nose, lol!
Shawn Johnston
I'm in my early 40's so a lot of people went for their vaccinations before me, and a lot were left after me. It was important for me to get vaccinated both to protect myself and others, and to set an example for others to get their vaccination. Was I nervous? A bit. By the time I get to sign up, some people had died from complications related to the shot. But, compared to the impact of Covid-19 itself, this risk was minuscule. It was an easy choice.
My wife and I got our texts about 5 hours apart, and were able to schedule our shots for the same time. We went to the huge clinic at Poirier in Coquitlam. I hadn't been in a building with so many people in so long. Hundreds. But it was organized and efficient and we got in and out in an hour. It was a nice chance to hang out, chat, and anticipate movement into the vaccinated future.
Since getting the vaccine, I've been just as careful as before, but it's given me huge piece of mind. I feel much safer. Safer from harm and safer from causing harm to others. It makes me happy to see the vaccination rates go up and up, and change is just around the corner. Back to hanging out. Back to seeing friends. Back to my kids' normal activities. Back to BBQ's (Mmmm BBQ's). We've done the hard work, following the rules and getting our shots, and soon, I hope, we will reap the rewards.