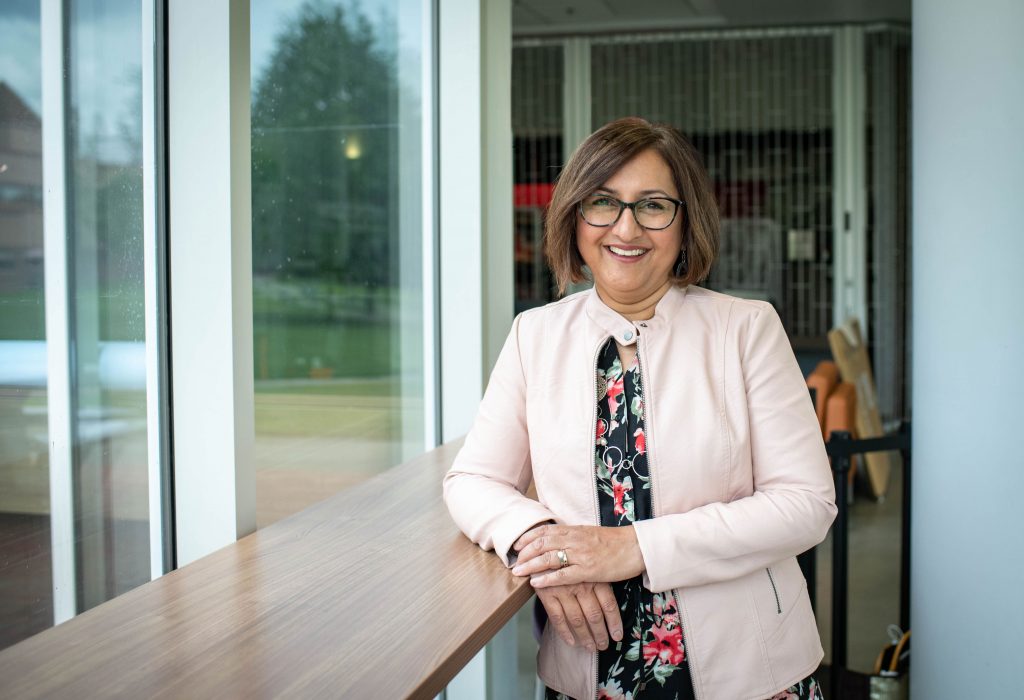 There were two key experiences early in the teaching career of 2021 UFV Teaching Excellence award recipient Awneet Sivia that defined her approach to her profession.
One was accepting a job in Merritt, BC, in 1988, for her first teaching post. The student body was a diverse representation of Indigenous, White, and South Asian backgrounds.
The second was being on the inaugural teaching staff at Maple Ridge's Thomas Haney Secondary in 1992. It was the first public school in Canada with a self-directed, self-paced learning model.
"In my first teaching job in Merritt I realized that I was kind of a role model for youth as a teacher of colour. It was clear that my 'work' was bigger than just teaching science. I was showing students the potential of who they could be, and the opportunities they could strive for, particularly for young women. Several of my students went on to become teachers, and we remain in contact today," Sivia recalls.
"When I started at Thomas Haney, the school was a physical and pedagogical innovation in education. The motto was, 'it was as if they saw the future coming'. This was a formative experience for me. There was a penchant for innovation. It encouraged me to reframe the relationships of power in teaching and learning, to approach teaching as 'learning conversations', and prompted me to look at education as a humanizing endeavour beyond the confines of my own classroom."
These days, Sivia is involved in teaching at a different level, as a teacher of teachers.
She worked in teacher education at Simon Fraser University for several years before joining UFV in 2011 as a professor of teacher education. She served as department head until 2014, and in 2019 took on the role of chair of the new Master of Education program.
In recognition of her dedication and innovative approach to teaching, Sivia is the 2021 recipient of the UFV Teaching Excellence award.
"There are two foundational threads that guide my teaching, whether it is preparing future teachers or working with in-service teachers in the MEd program," Sivia says. "The first is the critical lenses of social justice, anti-racism, and decolonization in teaching and learning. I endeavour to honour the First Peoples of this land by drawing on principles of learning such as reflection, learning about place, and learning by doing. As a social justice advocate and educator, I try to centre equitable social transformation as an encompassing goal of my work — preparing teachers and future educational leaders to transform schools into anti-racist sites for equity and social justice in the world. This means courageous conversations of personal responsibility and agency as teachers in 'doing things better' in education.
"The second is the core belief that education must ultimately be centered on the lives of those who undergo it. I call this the autobiographical curriculum where education, through the learning of content and development of competencies, ultimately leads to knowing 'who I am' as a human and social being. This is true for me as much as it is my students — becoming is the project of education and one that I work towards through the approaches I enact. My hope is that students take this 'autobiographical curriculum', one which transforms and awakens them, into their future classrooms and schools as teachers and educational leaders."
As she mentors teacher candidates, who are transitioning from being students to being teachers, she invites them to question preconceived notions about themselves and about the education system they grew up in.
When they go into their practicum placement schools, she invites them to put their "teacher lens" on and examine the school environment from a new perspective.
"We all have preconceptions about teachers, students, the curriculum and the community," she notes. "It is therefore important to make the familiar unfamiliar through activities such as a community ethnography. Students are asked to consider social issues, physical geography, ethnicity, and the political ideologies of the community where schools are located. They start to realize the complexity of teaching beyond the lesson plan, and to really think about who their students are and what lived experiences they bring."
In addition to teaching in both the bachelor's and master's level components of the Teacher Education program, Sivia is active in service and research.
"My life is like a Venn diagram," she jokes. "Service, teaching, and research all intersect and overlap in my work and feed off one another."
On the service side, she has been a member of the UFV Race and Anti-Racism Network, the President's task force on Equity, Diversity, and Inclusion, and a Teacher Education group that received innovation funding to develop social justice activities.
Sivia is also working with educators from across B.C. on a South Asian curriculum development project and in 2019, launched a regional Self-Study Research group with teacher educators across BC.
Her research has focused on a variety of areas, including effective leadership in online teaching environments, Indigenous ways of knowing, social justice, and tracking graduates after completion of teacher education programs.
She was surprised but delighted to hear that she is this year's winner of the Teaching Excellence award.
"I feel incredibly honoured and humbled but it is also very affirming to receive this award. It is a tangible reflection of my desire to be the best educator I can be now and in the future."