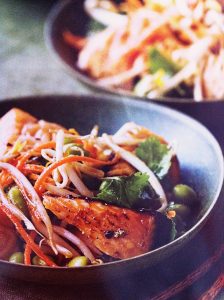 Thank you Laurie for sharing this recipe – it sounds delicious! My family LOVES salmon so I'm definitely going to give this a try.
This is super easy and quick to make.  Frying the salmon in a pan was a first for us, but it turned out to be delicious.  We decided to leave the skin on partly because Callum loves salmon skin but mostly, because it was a bit finicky to remove.  We've also substituted prawns for the salmon and that turned out great too.  The kids enjoy it, although one in particular only eats the chow mein noodles!  We used fresh chow mein noodles (454 grams) instead of the crispy ones, cooked them as indicated on the package and also sautéed them in the frying pan with ginger, onion and grapeseed oil to give them a bit of flavour.  We didn't have miso paste on hand so left it out. All in all it's a super healthy, easy to make mid week dinner and tastes great for lunch the next day!
Ingredients
1 salmon fillet (8 ounces/250 g), skin removed
A sprinkle or two of salt and lots of freshly ground pepper
A splash of cooking oil
1 cup (250 ml) of shelled edamame beans, thawed if frozen
1 cup (250 ml) of bean sprouts
1 cup (250 ml) of thinly sliced snow peas
1 cup (250 ml) of grated carrots
1 cup (250 ml) of cilantro leaves
2 green onions, thinly sliced
1 cup (250 ml) of crispy crunchy chow mein noodles
For the dressing
1/4 cup (60 ml) of vegetable oil
1 tablespoon (15 ml) of toasted sesame oil
2 tablespoons (30 ml) of grated frozen ginger
2 tablespoons (30 ml) of rice wine vinegar
1 tablespoon (15 ml) of miso paste
1 teaspoon (5 ml) of soy sauce
1 teaspoon (5 ml) of honey
Instructions
Preheat your favourite heavy saute pan over medium-high heat. Dry the salmon fillet on a piece or two of paper towel – this will help it sear and develop a crispy crust. Season the fish on both sides with salt and pepper.
Add a splash of cooking oil to the pan, enough to evenly coat the bottom with a thin film. In a few moments, when the oil just begins to smoke, carefully slide in the salmon fillet. Increase the heat to high and sear the first side until golden brown and crunch 4 to 5 minutes. Flip the fish and continue searing until the fish is cooked through, another 4 or 5 minutes or so.
Meanwhile, make the dressing. In a salad bowl, whisk together the vegetable oil, sesame oil, ginger, vinegar, miso, soy sauce, and honey until smooth.
When the salmon is seared, add it to the salad bowl and break it into large flakes with a fork. Add the edamame beans, sprouts, snow peas, carrots, cilantro, and green onions and toss until everything is evenly coated with the dressing. top with the crunch chow mein noodles. Serve and share!
KITCHEN TIP
The best way to keep the salmon from sticking to the pan is to preheat the pan. fish sticks to cold metal but not to hot metal. The oil will help, but nothing beats a hot pan for a nonstick cooking surface.