Submitted by guest blogger, Shawn Johnston – Director, Labour Relations, Human Resources
As a parent of two kids (ages 7 and 9) the move to remote learning in March created many challenges, top among them keeping my kids busy, active, and engaged. The move to remote teaching also created unique challenges for UFV faculty (and all educators), often quite different for each discipline. This is a story about how a UFV professor and two kids helped each other out in this difficult time.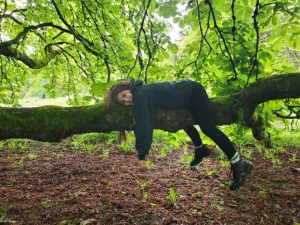 I first met Alan Reid, Associate Professor, Biology, after parking my car in lot 6b one morning, when I asked what he was looking at so intently. It turned out that he was studying some Dogwood (Cornaceae) plants and I was quickly introduced to the inspiring educational approach that I now know Alan is renowned for. As we occasionally ran into each other on campus we talked about plants (and mushrooms), and I took what he taught me home and passed on the knowledge to my kids (they are big lovers of the outdoors). When the kids and I couldn't figure something out (like the time we found what turned out to be a cool "witch's broom" way up in a Fir tree), my kids would say, "email Alan". Reliably, Alan had the answer and was excited by what we'd found.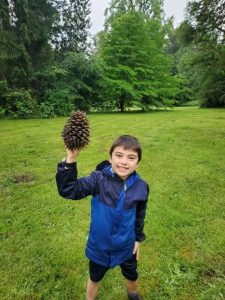 It was one of these "email Alan" moments that got things going. We'd started exploring the Riverview lands on our dog walks, and emailed Alan to ask some question. It turned out that he knew all about the Riverview lands. He taught us that we were exploring western Canada's oldest botanical garden, and he provided us with a link to an online interactive map of the garden's trees. And that is how our partnership started. I don't recall whose idea it was, but my kids loved learning about the trees, and Alan needed some photos for his, now online, biology courses. So, Alan would send us the identification numbers of some trees, and my kids would find them on the map, navigate to them, take photos (full tree, bark, foliage, cones, etc.), and we'd send them to Alan; repeat. It turned our dog walks into exciting educational adventures. Alan encouraged my kids and their learning, and dropped tidbits of interesting knowledge on them in his reply emails. I understand that Alan has been able to incorporate some of these photos into his lectures, giving his little photographers (or as he calls them "Assistant Professors") credit.
I owe a big thanks to Alan for this. It's not everyday that two elementary school kids get to participate in a biology project with a Ph.D. biologist, and further at a time when they desperately needed the interaction, stimulation, and adventure. But what I'll always be most thankful to Alan for is that he always made my kids feel like they were the ones helping him.