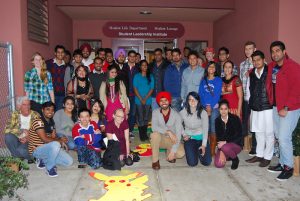 Diwali is an important celebration in our community and one that I knew very little about. Thank you Sharanjit for educating us about the meaning of Diwali and for reminding us how it is especially important this year as we navigate through a very challenging time in our history. Diwali is a festival of new beginnings and the triumph of good over evil, and light over darkness. We can all relate to that in some way and I hope this post inspires you to make changes in your own lives.
This weekend, many South Asians around the world will be celebrating Diwali/Deepavali/Bandi Chor Divas with their families and loved ones. Diwali, an ancient Hindu tradition dating back for more than 2,500 years, has incredible historical and unique meaning and significance for many different communities within South Asia – including Sikhs, Hindus, Jains and even as part of unique significance for South Asians living in Pakistan, Fiji, Guyana, Bengal, etc. The word Diwali comes from the Sanskrit word deepavali, meaning "rows of lighted lamps" as a marker of change, hope and a pathway from despair.
For many Hindus, Diwali is celebrated as the day when Rama, Lakshman, Sita and Hanuman returned from a fourteen year exile after defeating the demon king Ravana. It was the ultimate battle between 'good' and 'evil,' a battle of incredible epic proportions with symbolism and meaning and messaging embedded throughout as a means for us a humanity to aim to achieve these heights of good qualities.
Sikhs celebrate Bandi Chor Divas which was the day when their sixth guru or teacher was released from unjust imprisonment in the 17th century, joined by the 52 Hindu rajas or kings whom he also advocated to be released. For many Sikhs then, Bandi Chor Divas is a celebration of solidarity, of justice and of advocacy.
Diwali is not homogenous and each community celebrates with hope in mind, with celebration in mind and with history in mind. This weekend, I will be commemorating Diwali or as a Sikh, Bandi Chor Divas, with a commitment to change and hope in the world I live in locally and here at UFV, and with an ongoing dedication to impart knowledge over ignorance and with the continuing work towards advocacy and solidarity with those who are oppressed. I hope that the UFV community also takes a moment to sit and reflect on these values as well. These are values that connect us a humanity, regardless of whether you are Hindu, Sikh, Jain etc., celebrating Diwali this weekend.
These are qualities that we need to imbibe in our daily lives regardless of a once a year holiday. This holiday reminds us that we are only connected to one another as a humanity so much as we acknowledge each others' humanity and engage in solidarity work with one another. This means that we need to push each other beyond performances and vague messages to action and enactment where we have spheres of influence. These are qualities that we must work toward if we are going to change the status quo.
Knowledge over ignorance is one of the greater reasons of why we celebrate Diwali. But what does that actually mean? It means that now more than ever, willful ignorance is no longer an excuse. It means that we actually need to listen to each other and hear each other. It means that you will not always like what is said, but it is up to you then to gain knowledge on why you're hearing what you're hearing. In this moment, do we continue on the path to ignorance and willful ignorance, or do we take a path to knowledge, which is the cornerstone of the institution we work in?
I want to send a special note to students from India who are studying here at UFV. Know that you are not alone at all, that there are many of us here at UFV advocating and finding ways to support you as you navigate your learning and space during these scary times. Scary because xenophobia continues and scary because we are battling a worldwide pandemic. Know that during this time that is supposed to be of celebration, family and togetherness, that you have a safe space with the Race and Antiracism Network at UFV, and we are here for you to join us in conversation and share your stories. You can email us at antiracism@ufv.ca anytime.
Happy Diwali, Deepavali and Bandi Chor Divas to all those celebrating and even if you aren't celebrating, please take do take a moment to read on the significance of this day, now more than ever.
Submitted by guest blogger, Sharanjit Kaur Sandhra
Co-Chair, Race and Antiracism Network
Coordinator, South Asian Studies Institute