Well, it looks like summer may have finally arrived and just in time as some of the Covid restrictions are starting to relax. Of course we still need to be very responsible and keep listening to the experts who tell us that because the pandemic is far from over, it is still critical to keep our distance from others, wear a mask if social distancing isn't possible, wash our hands and don't touch our faces. We are allowed to spend time with others in small groups and of course, outdoors in wide-open spaces is best. One activity that fits in perfectly with these guidelines is bike riding. Whether you like to travel long miles on the open road, visit the trails for some off-road riding on gravel paths or dirt roads, or just simply leisure cycle for some nice, low-intensity recreation, bike riding can be a great way to increase your cardiovascular fitness, muscle strength and flexibility as well as reduce stress and relax your mind during these extremely anxious times. Bike riding is an excellent activity to keep our minds and bodies happy!
I am more of a hiker than a biker but I've been thinking that it is something I'd really like to try soon. It seems calming and peaceful to me and I'm sure I would enjoy it. But just to make sure, I reached out to some of my co-workers here at UFV who I heard were avid bikers. I wanted to learn what it was about biking that they loved and how they got introduced to it and I asked them to share their tips, tricks and favorite routes. After reading their stories, I definitely want to give it a try more than ever – maybe they will inspire you too!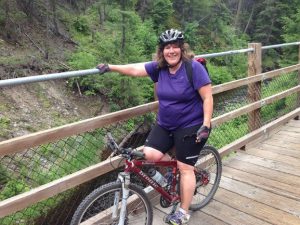 ANNE RUSSELL
Cycling has been part of my life since I first got rid of my training wheels. Perhaps before. One of my first memories is going over to sit on my brother's tricycle to establish ownership as soon as my dad accidentally ran over my pushbike with his sportscar.
Once I ditched three wheels for two, I discovered the freedom that a bicycle brings and explored all over my home town of Coquitlam. Growing up there meant that I learned how to ride up and down hills!
I was an early adopter of mountain biking and searched out trails all over Greater Vancouver in my late teens and early 20s with the boyfriend who became my husband.
My commute in those days was up the hill on the road to SFU by bike and home down the trails. What a thrilling way to end the school day!
Later I would bi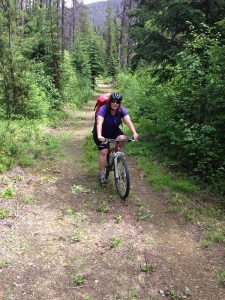 ke commute to BC Tel and downtown New Westminster while working my co-op jobs. I found some sweet side road routes to take.
When I moved to the Valley I brought my bike with me and immediately sought out the hills, riding up in the Promontory and Ryder Lake areas and enjoying the country roads and the sweet rides down.
As soon as my kids were old enough I put them on a bike seat or trail-a-bike behind me and took them for pleasure rides or for the commute to the old UFV Daycare.
Once we moved the UFV Chilliwack campus across town, my 10 km one-way bike commute became a 17 km one, but I still do it once in a while.
I've toured the Kettle Valley Railway in the Okanagan and the Galloping Goose trail with my women's soccer team. A good time for all, if slightly exhausting, especially if you add in winery touring at the end of a 60 km ride! And I've even done a couple of triathlons on my mountain bike!
As someone whose feet have always been sore while walking due to extreme pronation and whose knee injury now causes a permanent limp, cycling brings freedom from pain and power to explore.
I enjoy riding the Rotary Trail along the Vedder River near the Chilliwack campus and when in my own neighbourhood of Rosedale, there are countless backroad country routes to explore. Here's one of my favorites:
This is a nice flat route, around 14-km on the backroads of Rosedale, that highlights the beautiful scenery and mountain views of the eastern Fraser Valley:  https://www.mapmyride.com/routes/view/3145861015
ALISON PRITCHARD-ORR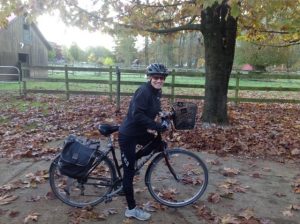 I am an avid cyclist and typically (when life was more typical!) use my bike to commute to the CEP campus from Yarrow — rain or shine! I rent out a locker at the CEP campus to store my bike. Sometimes these rides in and home again are the highlight of my day! My favourite loop? The new 20 km loop just completed around the Vedder trails. I am still cycling every chance I get but tend to use less frequented trails. I find the south side of the Vedder trails good for that.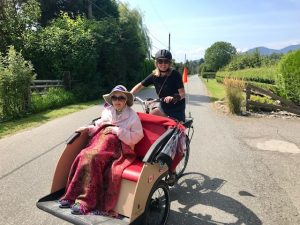 I have been cycling most of my life and use it as a means to travel and get around and wherever possible as a means to commute to work. It's a good way to incorporate healthy lifelong fitness into your work day. Of course now I'm using it to cycle to get groceries or just for pleasure on our local trails. I have many bikes for many purposes! Two commuter bikes, an old Schwinn tandem, and my husband and I just bought two origami folding bikes from MEC for travel. A little obsessive about cycling actually! Here's a picture of me pedalling my Mom with the Yarrow "Cycling without age" trishaw! Plans were to incorporate this into a means for KIN students to act as pilots to cycle with local Chilliwack seniors. Of course put on hold for now…
Thanks for this initiative! We need to promote more cycling!
BRENDA PHILIP
My favourite cycling routes:
From Fort Langley, over the Golden Ears Bridge to Pitt Meadows
Glenn Valley / Fort Langley area, but be warned that if you climb out of the valley, the hills get steeper the further east you go. 240th Street is the easiest

Here is a photo from a cycling trip we did in the Maritimes

Barnston Island is a fun ferry ride and easy flat cycle on quiet roads
Fairfield Island in Chilliwack is very scenic and generally pretty quiet
Although this is not necessarily an option now, cycle onto the ferry to Swartz Bay and ride the Lochside Trail and Galloping Goose Trail to Victoria.
My tips and advice:
 WEAR a HELMET!! I am enjoying seeing lots of people who don't normally cycle dusting off their bikes and getting out there. But please wear a helmet! Use one that fits and is adjusted correctly. Replace it if you have fallen while wearing it. Replace after 6 years. If you are buying one, opt for white or a bright colour to increase your visibility. Helmets that are lightweight and well ventilated are more comfortable to wear.
Take a snack with you, or have a coffee shop or bakery as a destination.
Know how to repair a flat tire and carry all the necessary equipment with you.
Have identification on you (driver's license, Road ID, etc.)
Wear bright clothing and consider using flashing headlights and taillights, even during daylight rides.
Go for an early-morning ride, when there will be less traffic and more interesting scenery.
Take in and enjoy your surroundings. Learn the names of trees and shrubs, cattle and horse breeds, etc.
DAVE PINTON
I started mountain biking about 20 years ago on Vancouver's North Shore. Two decades, a few broken bones, and five bikes later, I'm still addicted to it – but these days the tires stay on the ground… well mostly they do.
Usually, when we're not working remotely, I ride at Vedder Mountain after work – it's a five minute drive from the Chilliwack campus. Or I'll detour to the Chilliwack Community Forest on my way home. Or hit Sumas when in Abby.
No matter where the trailhead is, about five minutes after you pedal into the dark forest you forget all about email, budgets, and deadlines.
Climbing up the side of a mountain will give your legs, your lungs, and your mind a test. Getting into the cranking rhythm you need to focus while rolling over roots and rocks.
The uphill grind is the high price of a free ride. At the top, cash in your gravity chips and start down. Instantly you're a 12 year old kid again, swooping turns, running berms, and grabbing just a tiny little bit of air under your middle-aged tires.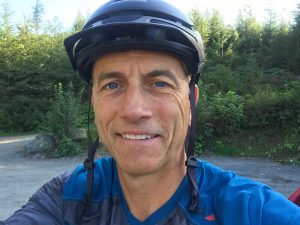 Or, if it rains too much and the trails transform to mud, the gravel roads and paths stand in for the flooded single track.
It doesn't really matter where you ride, mountain, path, or road. Or how fast, or how far you go, getting out there casts magic. Something about the spinning wheels, the breezy speed, the repetitive whirl of chain and tires, the round-turning rhythm recharges you.
I know it takes balance to ride a bike, but riding a bike gives back balance.