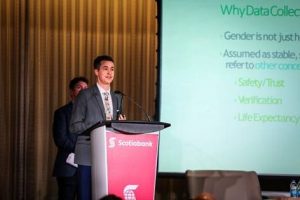 On January 28, 2020 Human Resources ran our latest installment of our Learning Series workshops: Gender Diversity in the Workplace. The workshop was led by Kai Scott, M.A., (pronouns He/Him) a social scientist with 15 years' experience working with vulnerable populations.
The workshop addressed transgender rights and the barriers transgender people face in the workplace, and provided advice on practical approaches for supporting transgender students and colleagues, and building a supportive workplace and learning environment for transgender people. The goal in providing this workshop was to help strengthen UFV as a safe space for everyone regardless of gender.
What I found most helpful was learning about how to let individuals take the lead in determining what aspects of their gender to share in the workplace, and how to best correct mistakes such as misgendering someone. We're looking forward to getting feedback from participants which will help us understand how we can best support the UFV community through the HR Learning Series.
For more information on Transfocus and the services they provide, please visit their website at https://www.transfocus.ca/
Submitted by guest blogger, Shawn Johnston, Legal Counsel, Labour and Employment at UFV