It seems like it took summer so long to arrive this year, but now that is has, it's almost over!  For all you employees that have been around for awhile, you know that the highlight of the season at UFV is our annual Employee Welcome Back BBQ. And for those of you that have recently joined UFV, this is one event I hope you didn't miss! It's always an awesome, fun-filled day where we all come together to eat, play, brag about our summer vacations and share our energy and excitement for the upcoming academic year. This year's BBQ was held on Wednesday, August 21 and was well attended once again, despite the rain.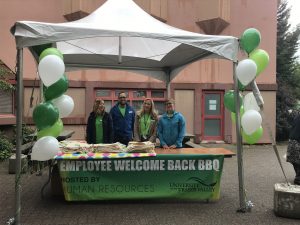 We were so happy to see so many of our amazing employees, current and new, brave the weather – many of them with their families. A great time was had by all as we enjoyed great food, music, candy bar, ice cream, and games on our beautiful campus green! Thank goodness our give-away a few years ago was umbrellas which came in very handy this year.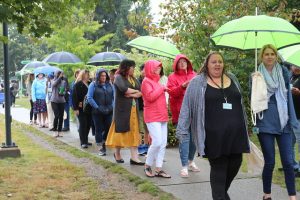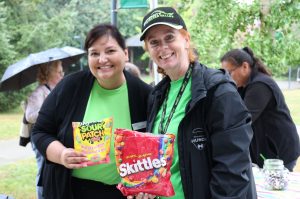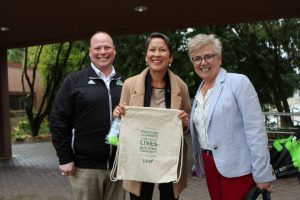 Thank you to Cameron Roy who graciously donates the drinks every year, the FSA who always does an amazing job of the most popular booth of all – ice cream, Pete Cordalis for the vibe he provides with his fun selection of foot-stomping music, our hard-working Facilities staff who are so helpful with set-up and clean-up, and John Garrett and his Dana Catering staff who miraculously pull off a delicious lunch for 600 employees and make it look easy! And of course I must thank all of the HR staff who worked through the rain to help put on a great event once again. I appreciate you all so much and couldn't do my job without you. Welcome back everyone – staff, faculty and students. Bring on the new year!