UFV West hosted their second annual Welcome Social on September 22. Students and faculty came together to learn more about WEST, meet fellow students and faculty, and gathered information on opportunities in STEM at UFV. The event featured female STEM professors from across campus.
Featured faculty from the Faculty of Science were:
Dr. Lucy Lee, Dean
Dr. Sandra Gillespie (Biology)
Dr. Carin Bondar (Biology/SLUEC)
Dr. Dina Navon (Biology)
Dr. Jane Jae-Kyung Shin (Biology)
Dr. Robin Endelman (Math & Stats)
Dr. Cindy Loten (Math & Stats)
Dr. Kseniya Garaschuk (Math & Stats)
Dr. Vanessa Radzimski (Math & Stats)
Dr. Gillian Mimmack (Math & Stats)
Dr. Stefania Pizzirani (SLUEC)
Dr. Afia Raja (SLUEC)
Dr. Lauren Erland (Agriculture)
Dr. Golfam Ghafourifar (Chemistry)
Dr. Lucy Lee, Dean of Science shared an inspiring message while welcoming everyone.
UFV WEST is an organization focused on the support and promotion of female-identifying individuals in STEM (Science, Technology, Engineering, and Mathematics). They were founded in 2019 and each year continue to grow and strive to empower gender minorities in STEM within the university, community, and beyond.
Congratulations to this year's executive on another spectacular event!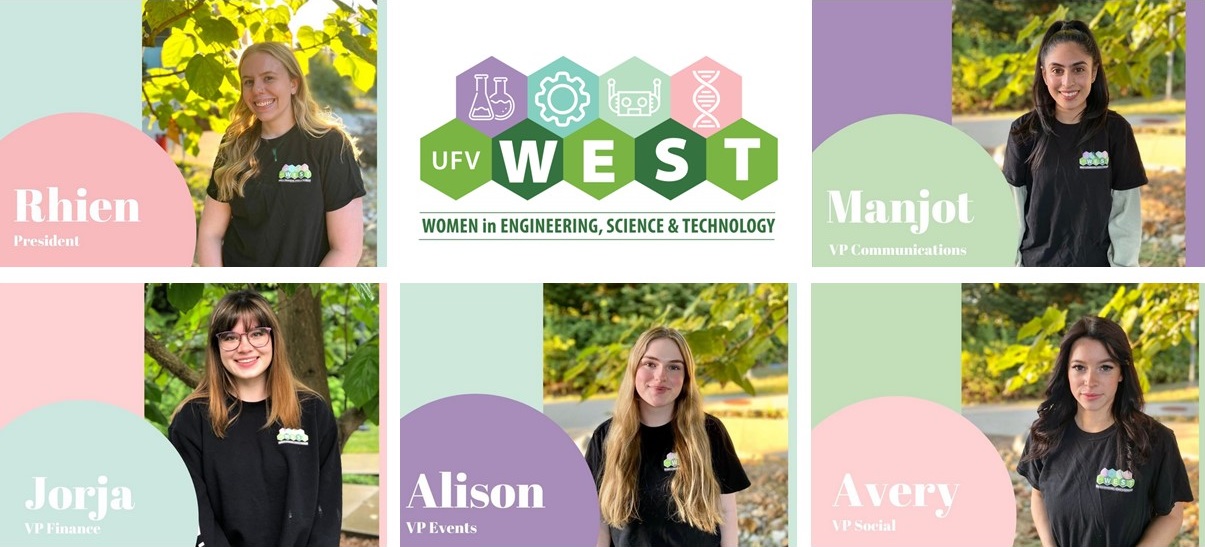 To meet them again and other STEM groups, be sure to join us at our Science Social on Thursday, September 29 from 5-7 on the patio in K-Building! For more information on this event, please visit our blog https://bit.ly/3qnfHno