Welcome back! Today was a beautiful day in London, so Annabelle and I decided to venture out for some sightseeing! We started our morning at a beautiful coffee shop in the Westminster area for a morning coffee and croissant before our adventures.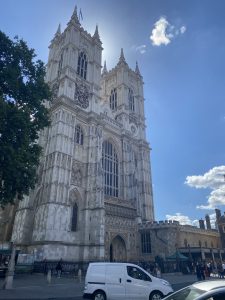 Prior to our trip, Annabelle and I put together a list of things we'd like to see in London, particularly those that aren't the typical "touristy" things. We used today as our day to find some new places and sights to see. We started our day at Big Ben and ventured around the Westminster abbey area. Although we did not actually go inside, we looked around the exterior and looked at a couple of smaller churches in the area. The history and architecture of the buildings are incredible!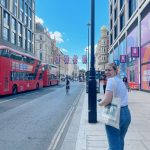 We then took the tube to Soho, a younger, newer area North of Westminster. Soho had a ton of cute shops and restaurants we wanted to check out. We walked around for a couple of hours, stopped for lunch and did a bit of window shopping in the area. We then checked off one of our sights to see, Crème. Crème is a local bakery that specializes in giant, filled cookies! Annabelle and I tried a white-chop lemon, and a classic chocolate chip. We would highly recommend crème to anyone visiting the city!
After our adventures, we headed back to our dorm in South Kensington. We then met up with our friends for dinner before the annual cabaret evening. The cabaret is similar to a talent show, where participants have the chance to showcase a talent for the rest of us! The night was filled with music, singing, dancing and magic! The cabaret went until late, so afterwards Annabelle and I headed back to our room to rest up for another exciting day tomorrow!