The Faculty of Science is this year's recipient of the 2022 Community Matters Award from the Abbotsford School District. Dr. Lucy Lee, Caroline Majeau, and Janice Nagtegaal accepted the award on behalf of the Faculty on June 14 during the Public Board Meeting at the Abbotsford District Board office (pictured above L-R: Trustee Preet Rai, Trustee Shirley Wilson, Caroline Majeau, Janice Nagtegaal and Dr. Lucy Lee). Nominated by Jas Piche, Clayburn Middle School educator and long time member of the Fraser Valley Regional Science Fair highlighted the support and commitment that UFV has provided to students through Science Fair events over the years, ensuring they have an opportunity to share and celebrate their work in an authentic, real-world environment.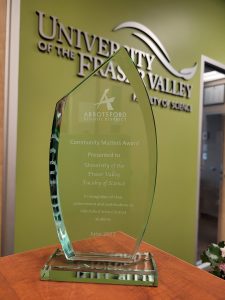 The Faculty of Science is honored to be this year's Community Matters Award. UFV's Vision to be "known as a gathering place for learners, leaders and seekers" reflects the spirit of the award, and our Mission: "Engaging learners, transforming lives, building community" is what we aim to do. We believe in building community beginning with our regional schools and the student participation in the annual Regional Science Fair has always been an eagerly awaited event. It is always nice to see the students grow and succeed in provincial and national events, and UFV will always be here to support our community.
Read the June 28, 2022 News Release from the Abbotsford School District
The Board of Education established the annual award in 2015. The Community Matters Award is presented annually to organizations that have exceeded their community service mandate and have made a significant, deliberate contribution to Abbotsford School District students.
The Faculty of Science is honored to join the list of past recipients: