UFV's March for Sustainability kicked off on Wednesday, March 2 with Pollinator Garden Education. Biology Professors, Alan Reid and Sandra Gillespie, presented at the Abbotsford Campus and Renee Prasad and Jennifer Ryan, Agriculture Professors, presented at the Chilliwack campus where they highlighted the various plants within the garden at CEP and their care and maintenance.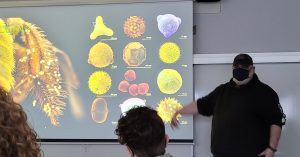 Our class of budding Abbotsford "plant nerds" learned about many of the Lower Mainland native plants and how we can help support our pollinators. The world's food supply depends on pollinators. Birds, bats, bees, butterflies, beetles, and other beneficial insects and small mammals pollinate plants.
It is estimated that 65% of all flowering plants require insects for pollination.
Since flowers can't move, they need to be able to attract pollinators or be built so that wind is able to pollinate them. There are two major pollinator methods:
Wind = non showy flowers
Animal = great diversity of shapes and colours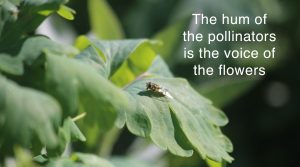 Plants advertise their pollen and nectar with colours, scents and nectar rewards with colours, scents and nectar guides. It was interesting to learn that many insects do not see red very well, so likely not a good colour to use if you want to attract insect pollinators.
Sandra Gillespie is UFV's resident Queen Bee. Her research focuses on pollination ecology, with an eye to understanding both basic and applied aspects of pollination. There are over 800 bee species native to Canada with 600 of them in BC!
Did you know that honeybees are not native to North America?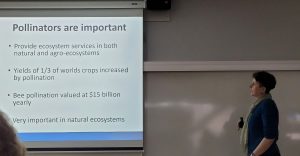 Honey bees are not native to North America. They were originally brought to North America by European settlers in the 17th century and can even be considered an invasive species in some places. Honeybees have easily adapted to life in forests and wooded shelters throughout Canada. All bees require a continuous supply of both nectar for sugar and high quality pollen for protein throughout their lives. Nesting habitats for bees are a place for them to rear their young and can be found in the ground, woody stems, and even abandoned mouse burrows.
Pollinators are facing a number of changing pressures in the Fraser Valley related to land-use change, climate change, and invasive species. So, what can we do to help our pollinators thrive? Plant a garden! Adding floral resources to the landscape supports biodiversity. Whether you have a balcony, a rooftop, or a patio, you can still plant many pollinator-supporting native plants in containers. If planting a garden isn't possible, there are other ways to support conservation and restoration efforts in your community. Nesting boxes provide a suitable alternative for nesting habitats, however, the success depends on many factors so the best thing to do is to try different types and see who shows up.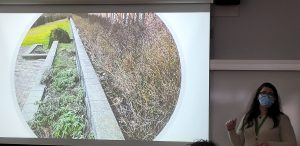 In closing, Stefania Pizzirani, Professor from the School of Land Use and Environmental Change shared plans for UFV's Community Garden located behind Baker House. Many of the plants succumbed to the heat from last year's heat wave. The event came to an end after a wonderful discussion on bringing the garden back to life and how to keep it sustainable for years to come.
To keep up to date with what's happening, and learn how to get involved in the projects, campaigns and events that have significant positive impacts on our campuses and within our communities, make sure to join SustainableUFV.
Our next March for Sustainability event is Thursday, March 9 "Clothing Exchange and Repair Fair". This event is presented by the SLUEC Student Association, UFV Global Development Studies and the School of Land Use and Environmental Change.