The Faculty of Science is pleased to sponsor the chillTV produced program, "Climate Crisis!", with UFV Professor Emeritus, Dr. Tim Cooper!
The series will be held on 3 consecutive Thursday evening's beginning at 7 pm, after the chillTV News of the Week, with Don Lehn, October 14, 21 & 28!
Dr. Cooper is an expert in his field having delivered close to 200 lectures on the subject during his tenure. He is able to share important information … some certainly worrisome, with levity and hope for our future, all from the perspective of a resident of the Fraser Valley.
We hope you find the program informative!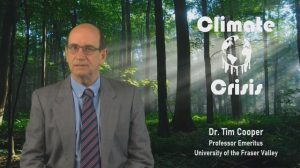 PART 1 – "Climate Crisis!" from October 14th can be viewed here: https://fb.watch/8FnZpd8m8w/
The full "Climate Crisis!" series can be watched on chillTV's Facebook Playlist after October 28th https://www.facebook.com/watch/733851043405590/605084610730031