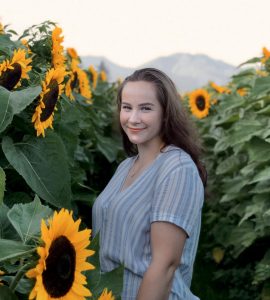 Thank you to the University of the Fraser Valley's Faculty of Science and Faculty of Applied and Technical Studies for their tremendous support in granting myself and my fellow peers the opportunity to experience the 2021 London International Youth Science Forum. Although this years' forum was held virtually, it still allowed me to connect with like-minded youth from across the globe, visit science labs across the United Kingdom, and present my ideas in an interactive environment. I am so thankful and honoured to have had this opportunity.
The two-week forum was jam-packed with events, even online! Everything virtual was held via a platform called Whova; an interactive application that hosts a variety of features, including the ability to connect and chat with participants around the world. Even with the time differences, I was able to befriend a budding scientist from New Zealand! LIYSF and its organizers truly thought of everything in terms of online meet ups; I was consistently being invited to virtual chat rooms and discussion forums! The social part of the forum highlighted the collaboration aspect of STEM. Even when considering a global pandemic and time differences, collaboration is integral to learning more about the world around us and making it a better place, inclusive of everyone.
A personal highlight for me was the Science Bazaar. Through the virtual portal, students from around the world submitted their research projects, along with a video explaining their topic, for all the participants to engage with. I had the privilege to be part of the bazaar and present my Rubens' Tube to a panel of distinguished judges, including a Masters Student in Theoretical Physics who is studying at the Imperial College of London. Having the opportunity to present to the panel made me feel proud to represent UFV on a global stage. The virtual bazaar format also enabled me to interact with projects from around the world. My personal favourite was a bionic arm created from scratch out of recycled materials! I loved learning about the creative and imaginative projects from students across the globe during the Science Bazaar.
Another highlight of the forum were the scientific visits. Although I was "zooming" in from Canada, getting to experience a behind-the-scenes look at a variety of scientific venues was a treat. My personal favourite was a video tour and lecture from The Royal Institution in London, which was founded all the way back in 1799. This specific video was all about rocket science which as a physics student, was fascinating! I appreciated how the lecturer, Professor Chris Bishop, broke down complicated concepts, such as rocket propulsion, into understandable, bite-sized chunks that could be understood by undergraduate students, like myself.
The pinnacle of this years' forum were the guest speakers. The online delivery and on-demand programming allowed participants outside of London, like myself and many others, to experience guest lectures at our own pace and within our own schedules. My favourite lecture was from Lord Rees, the United Kingdom's Astronomer Royal and professor at Cambridge University. His talk  was all about planets, stars, and galaxies. I found this lecture particularly interesting because of my interest in astrophysics, specifically black holes. Hearing Lord Rees talk about the feeding of black holes and how they reside at the center of galaxies was insightful and makes me excited to learn more about stellar astrophysics in graduate school. Learning about galaxies and stars has a way of making you feel tiny yet significant and Lord Rees' lecture exceeded all of my expectations on what a LIYSF guest lecture would be like.
After the two-week forum, I left feeling inspired and motivated. Having the opportunity to connect with students from around the world, virtually visit scientific venues, and hear from world renowned scientists was an experience like nonother. The virtual forum has me looking forward to the possibility of going to London; if the LIYSF team can put together such a great virtual event, I can't imagine what they could put together in-person! Thank you again to the Faculty of Science and the Faculty of Applied and Technical Studies for this amazing opportunity. I am grateful to have been selected for this award and I look forward to the possibility of visiting London next year.
~ Annabelle Czihaly