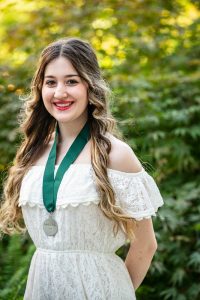 Congratulations to BSc Graduate, Isabelle St-Martin, recipient of the Faculty of Applied and Technical Studies Dean's Medal for 2021. Dr. Peter Geller, Interim Dean, presented her with the medal earlier this month. Isabelle graduated with the Bachelor of Science degree with a dual major in honours biology and physics, a mathematics minor, as well as a cellular, molecular, and genetics concentration.
She began her UFV  journey in 2016 and continues to go full steam ahead. In 2019, she was selected by the Faculty of Science to represent UFV at the London International Youth Science Forum in London, England where she spent 2 weeks taking in lecture demonstrations from leading scientists, visited world class laboratories and universities combined with cultural interaction with 500 other students from 70 countries around the globe. She then headed to Geneva to attend the CERN Discovery Programme.
Since the beginning she has been involved in the UFV community. She co-founded the UFV WEST (Women in Engineering, Science, and Technology) which focuses on the support and promotion of female-identifying individuals in Science, Technology, Engineering, and Mathematics (STEM). Although moving on, she plans to stay involved with UFV WEST and continue to do the work that means so much to her. Over the years at UFV she has been an active member of the Supported Learning Group (SLG) as a mentor, leader, teaching assistant and a monitor in the Math and Stats Centre.
So what's next for Isabelle? She is currently a Spin Manipulation Student at TRIUMF, Canada's particle accelerator, involved in condensed matter physics research. The lab "is a hub for discovery and innovation inspired by half-century of ingenuity in answering some of nature's most challenging questions". In September she will begin her Masters of Science degree in medical physics at the University of British Columbia.
Following this, I intend to pursue my PhD and build a career that combines the critical roles that biology, physics, and math have to play in the future of medicine.
Congratulations Isabelle! We wish her the best on her journey and have no doubt she will continue to inspire others! Be sure to keep us posted.