The Faculty of Science welcomed Professor and Chair of the Department of Molecular Biology and Biochemistry at Simon Fraser University, Dr. Lynne Quarmby, to our virtual greenSpeak Series on March 30, 2021. Dr. Quarmby shared her story of bringing attention to the climate crisis and her passion for science.
Watermelon snow refers to red algal blooms among snow colonies of microorganisms. Normally green, the algae adapt to warmer temperatures by using red pigments as sunscreens. Unfortunately, this also speeds up snow melt, setting up one of the many feedback loops that magnifies polar warming.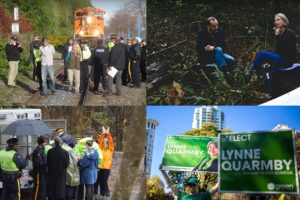 She shared her story behind her latest book, Watermelon Snow, from the vantage of a schooner full of artists on an adventure in the high Arctic. She explains the science that convinced her "of an urgent need to act on climate change and recounts how this knowledge – and the fear and panic it elicited – plunged her into unsustainable action, ending in arrests, lawsuits, and a failed electoral campaign on behalf of the Green Party of Canada."
If you missed her talk or would like to watch it again, you can find it below in its entirely.