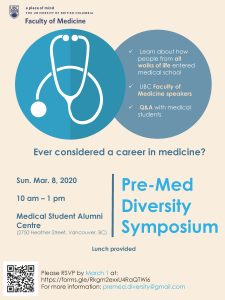 Have you ever considered a career in medicine?
The Pre-Med Diversity Symposium  is an annual UBC faculty-sponsored event designed to encourage people from all walks of life to apply to medical school. This event is tailored to applicants who consider themselves 'non-traditional' for reasons that may include having a non-science background, applying later in life, having children and family, having financial or personal hardship, or belonging to a demographic underrepresented in medicine.
The event will include speakers (faculty members, admissions staff, medical professionals, and medical students) and interactive break-out sessions to answer attendee questions. Please note that the locations are wheelchair accessible and we will be using microphones. Please let us know any other accessibility needs you may have below and we will address the needs as they arise.
Event details:
What: Faculty speakers, student speakers, and small group Q&A with medical students. Lunch included!
Date: Sunday, March 8, 2020
Time: 10-1 pm
Location: Medical Student Alumni Centre (2750 Heather St, Vancouver, BC). This event will also be video conferenced to Prince George, Victoria and Kelowna (more details can be found in the RSVP link below).
For more information, please email premed.diversity@gmail.com