We are excited to report that our 2019 Science Rocks! summer camps are in full swing. Each day has been filled with a dynamic mix of hands-on activities, demonstrations, and fun outdoor activities. Thanks to our awesome team leader, Korissa Heibner and her crew Raina Goerzen, Nathan Enns and Phil Um the kids are having an A+ experience!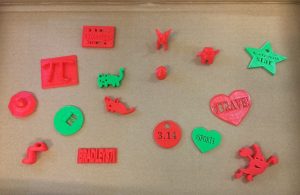 We are thrilled to bring the art of 3D printing to our campers this year. A huge thank you to UFV Librarian, Martin Warkentin, for his amazing support.
Our Abbotsford Turbo Power Week wraps up today with bottle rockets, a pizza party and some water fun! Next week our Light 'em Up camp will focus on things that glow, interesting behaviours of fire and light, and maybe some safe explosions!
July 29th we'll be saying goodbye to Abbotsford and heading to Chilliwack for our final 3 weeks where we will welcome more budding young scientists!
If you're looking for something for your kids to do over the summer, why not check us out? We still have a few seats available in our Chilliwack Camps.
Visit our website for more information!
Check out some of our photos from our Patterns, Puzzles, and Pedigrees Camp!