The Science Rocks! summer camp program received a large donation last month from the Rotary Club of Chilliwack to help support our science camps being held in Chilliwack this August. As a gold sponsor they were awarded with a framed certificate at their meeting held last month. Their donation will go a long way to help support our programming and continue to bring science fun to the community.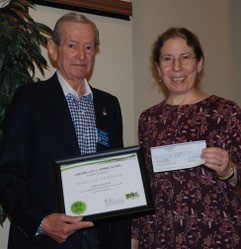 Robin Endelman, Science Rocks! Coordinator was invited to their meeting in March to receive the cheque and presented them with their certificate.
A huge thank you to the Rotary Club of Chilliwack for your continued support of our youth in the community!
If you would like to find out more information on how you can help support our Science Rocks! program, please contact us at sciencerocks@ufv.ca or visit our website at www.ufv.ca/sciencerocks