Thank you to all 100+ UFV Science students, faculty and staff who came out for our 11th Annual Science Social on September 27th. We couldn't have asked for better weather for visiting with friends, listening to music, playing chess, winning prizes, and eating way too much pizza!
Special thanks to the following Science Student Associations who hosted a table at the event and were available to answer questions for those inquiring minds: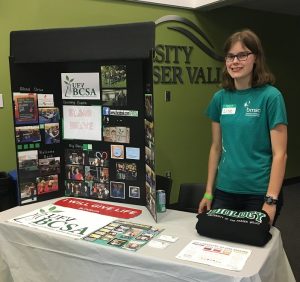 AGUS – Association of Geography Undergraduate Students
BCSA – Biology & Chemistry Student Association
CSA – Computer Student Association
Math and Statistics Student Association
PSA – Physics Student Association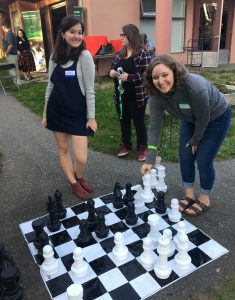 The UFV Career Centre was well represented with Deanna Devitt and Sidrah Ahmad. David Mora Perea from our 'new to UFV' Let's Talk Science; Blair McFarlane from SustainableUFV; Aaron Levy from CIVL Radio who provided all the music for the evening including the much anticipated drum rolls; and UFV Athletics who organized the outside activities including chess and pong.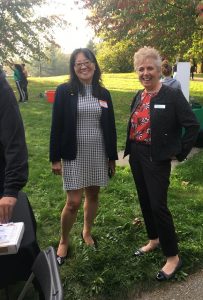 We were honoured to have UFV's President, Joanne Maclean stop by to visit with the students and say a few words. Dr. Lucy Lee, Dean of Science who just returned from her year long sabbatical, welcomed back all of the students. Our MC for evening was none other than Physics Professor, Jeff Chizma.
Rilla Apostolakis from the Advising Centre and Janice Nagtegaal from the Science Dean's Office were on hand to check in all of our guests; our pizza table was well looked after by our amazing faculty volunteers from Physics – Tim Cooper, Norm Taylor and Carmen Herman; Biology: Debbie Wheeler; Math & Stats: Greg Schlitt and Robin Endelman; and the Advising Centre: Karen Cooper.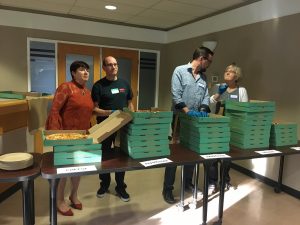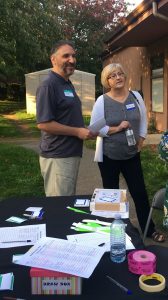 Thank you to the following UFV Science Departments for all of your prize donations!
A huge thank you to the Science Social Committee – Caroline Majeau and Janice Nagtegaal from the Faculty of Science Dean's office; and Rilla Apostolakis and Karen Cooper from Science Advising for organizing this yearly event.