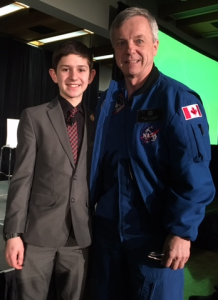 Mac Smith, 2017 Fraser Valley Regional Science Fair Alumni, was invited to attend the Canada 2067 Calgary Youth Summit. He was joined by a series of other dynamic speakers including Retired Astronaut and University of Calgary Chancellor, Robert Thirsk and Pro Golfer and Chemical Engineer, Brittany Marchand. The Let's Talk Science event was moderated by Global Calgary News Anchor, Bindu Suri. The speakers came together to deliver short pitches showcasing diverse and fascinating fields that exist in the world of science, technology, engineering and math (STEM).
Mac spoke about his Headstart Concussion Alert System and how he went from an ice cream bucket prototype to connecting with Bauer's product development. He left the audience with 3 inspiring tips …
‌Dream big!
Ask for help from others!
Don't ever give up!
Access the Livestream Recordings of the Regional Youth Science Summits that have been held across Canada. The Calgary Youth Science Summit recording will be available soon.