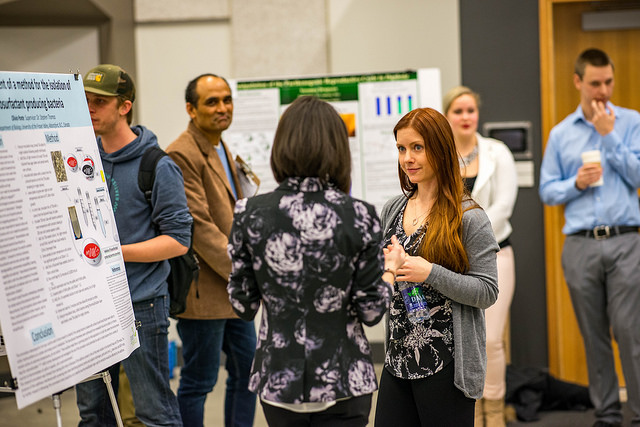 UFV Student Research Day
Thursday, April 5, 2018
11:30 – 12:30 pm Micro-lectures (Spirit Bear Cafe, A219 Abbotsford Campus)
12:20 – 2:30 pm Poster Presentations (University House, F124 and F125 Abbotsford Campus)
3:00 pm Awards Ceremony (F125)
[box]Micro-Lectures[/box]
11:30 am – Micro lectures in the Spirit Bear Café, A Building, Abbotsford campus.
Take the stage and share your research experiences in a high-speed 2-minute lecture. UFV Students only.
How do I register for the Micro-Lectures? Fill out the online registration form ‌by March 26, 2018.
[box]Poster Presentations and Judging[/box]
10 am – 12:30 pm – Poster Presentation Registration and Free Pizza Lunch for poster presenters only, in F124 & F125, Abbotsford campus.
12:30 – 2:30 pm – Poster Presentation in F124 & F125
Present your research project on a poster in a lively interactive session. Participants compete for scholarship awards between $150-200.
[box]Awards Ceremony[/box]
3:00 pm – Awards Ceremony in F125
Prizes are awarded to UFV students for Student Research Day.
---
[box]Questions[/box]
Who can participate? Students who conduct research under the supervision of a UFV faculty member may take part in the Micro Lecture, Poster Presentation, or both. All Faculties and disciplines are welcome.
Poster Workshop for students: March 21, 2018
10:00 – 11:30 am, A225 Abbotsford campus, please RSVP to Kelly.tracey@ufv.ca to attend.
How do I register for the Poster Presentation? [highlight]Fill out the online registration form by March 26, 2018[/highlight]. If you have any questions please email kelly.tracey@ufv.ca or visit us in the Research Office located in G290, on the second floor of the library on the Abbotsford Campus.
What else do I need to know? Detailed participant instructions, Poster Guidelines 2018, photos, and videos are online: Student Research Day. UFV Research Services will cover the cost of posters printed in UFV Print Services. However, students must email the Printroom by Monday March 26, 2018 to be eligible for free printing.
Award winners will be invited to submit their work to the UFV institutional repository HarvestIR. An institutional repository is a web-based system designed to preserve and showcase the notable intellectual work of faculty, staff, and students. Student contributors to HarvestIR will benefit from increased exposure to their work within an online scholarly context, and potential employers, graduate schools, and friends and family can be directed reliably to the content using the permanent URLs. The HarvestIR system also ensures the digital preservation of the submitted content according to professional information management standards.
For more information, see: https://libguides.ufv.ca/HarvestIR
For examples of submitted work, see: http://ufv.arcabc.ca/student-research-posters