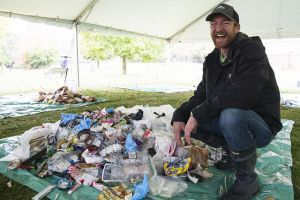 Sustainable UFV will be looking for a new Sustainability Coordinator Assistant (SCA) to take over from Travis Gingerich who will be graduating in April. This flexible 12 hr/week student position is an excellent way to get involved in the field of sustainability on an organizational level, which helps to spur long-term and lasting change.
In this position, the SCA works alongside the Chair of the Center for Sustainability and our Energy Manager to create and direct initiatives including:
Waste Management
Energy Savings
Greenhouse Gas Reduction
…while also coordinating events to engage students, staff, and faculty in sustainable practices.
Key initiatives have included:
Waste Audit
Sweater Week
Earth Day activities
Bike to Work Week
Sustainable Waste Stations
What better way to find out what the job entails than hearing from Travis himself!
It's been a fantastic experience that has allowed me to stretch my horizons and make a lasting impact on campus. The experience I have gained in project and program management as well as communications has prepared me for a successful transition into a post-UFV career, like many past SCAs who are now in environmental sustainability related fields. Other benefits include flexible hours and a very supportive team in Facilities that really gives you the opportunity to make it happen. 10/10 would do again. ~ Travis Gingerich
If you'd like to hear more about the position, feel free to contact him at travis.gingerich@ufv.ca and he would be happy to answer your questions or set up a time to meet. An official job posting will be available shortly.