Today was wonderful! I was one of the few not attending Stonehenge today, and because of that I woke to a quiet house and a day for shopping. I ended up sleeping so late, I missed breakfast, so I brought myself down to one of the many cafes surrounding South Kensington Station. Breakfast was wonderful, and it was a nice change from the usual scrambled eggs, hashbrown and fruit I have every morning.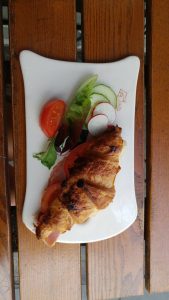 Post-breakfast was a trip to Harrods. I have never in my life seen such a massive store full of such expensive things. I walked around for around and hour and a half looking like a fool taking pictures of things I could never afford. Highlights include the bakery counter and some of the more exotic home ware items.
I attempted to walk down Oxford St. but being a Sunday, all the shops and the street were packed with people. After a couple of attempts and a long trip into Primark, the UK's version of Target, I decided it was time to be moving on. I had a lovely walk through Hyde park and enjoyed watching all the people attempt to paddle boat in the river.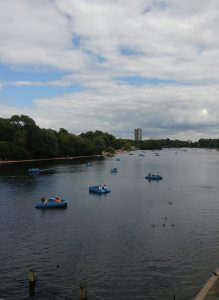 After a quick snack it was off to the Science Museum for me. I enjoyed in particular the flight exhibit and the floor dedicated to the evolution of science and creation of machines. The museum was well layed out and had a ton of information, but I was glad to only spend a couple of hours in it, although I know a girl who spent 3 hours today and plans to go back again this week. There were some funny street performers outside the museum as well who I found pretty cute.
After my adventures, I ate dinner and learned of the great Stonehenge… It sounds like a bunch of rocks on grass, but I'm sure it was amazing to see. Something I will have to come back for for sure. The debate we had in the evening was about climate change and at first, I wasn't too sure what to expect. The lecturer had a fairly broad introduction and let the debate develop as people made comments. We ended up having some insightful contributions and it lead to further discussion outside the lecture hall which I appreciated. The level of maturity and intellect demonstrated by most of the students here is really impressive and I gained some new perspective on the topic for sure. Tomorrow is the "Great Treasure Hunt Crossword"… We shall see how things turn out then. I anticipate a lot of running and competition.
Update soon, T.