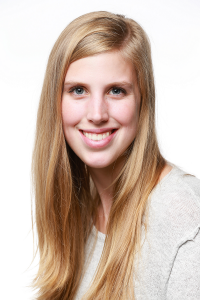 Genevieve graduated from UFV in 2014 with a Bachelor of Science in Cell/Cellular and Molecular Biology. Her UFV Biology honours research project "Preparing Nurses for Genetic Medicine: Integration of a Brief Education Session in an Undergraduate Nursing Curriculum" was submitted to the HEALIO Journal of Nursing Education and was published March 2017.
She completed her first year MS in Genetic Counseling at California State University-Stanislaus State last August before returning to Abbotsford for her clinical rotation training under the supervision of Angela Bedard and Allison Mindlin at the BC Cancer Agency. She returned to California State to continue her Masters in Genetic Counseling.
Genevieve completed a clinical internship at Stanford Children's Health / Lucile Packard Children's Hospital as a Prenatal Genetic Counselor; and finished off her final year at the UCSF Medical Center as a Pediatric Genetic and Metabolic Genetic Counseling Intern.
Genevieve successfully defended her MS thesis May 5, 2017!
We wish her continued success!
Article:
St-Martin G., Bedard A., Nelmes J., Bedard J. (2017). Preparing Nurses for Genetic Medicine: Integration of a Brief Education Session in an Undergraduate Nursing Curriculum. J Nurs Educ. 56(3) 170-173. doi: 10.3928/01484834-20170222-09 [LINK]