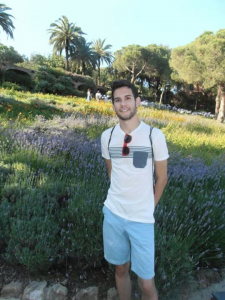 Jose Martin Gomez, a BSc student in Biotechnology at Universidad Pablo de Olavide in Seville Spain will be spending his academic year here at UFV. In addition to his honours thesis project he will be working on a special topics course with the Dean of Science, Dr. Lucy Lee.
His research stay is sponsored by a scholarship he received from his university and Banco Santander of Spain.
Jose is an A+ student which has earned him awards and scholarships. He previously spent 10 months at Eberhard Karls Universität of Tübingen in Germany through another exchange opportunity. He is fluent in both English and Spanish and has some working knowledge of German and Japanese.
Jose had a choice of universities to attend from both Canada and the USA and he chose UFV.
"Why UFV? Because some students that studied there gave me really positive comments about it. One of them said that they are really nice and helpful to international students …"
Welcome to the Fraser Valley Jose! We have no doubt you will have a great experience here at UFV.