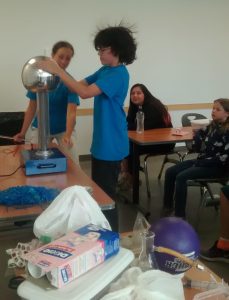 There was so much fun had at the Science Rocks Aboriginal Youth Camp last week it would make your hair stand up!
24 kids from Grades 4 – 7 signed up for a week of fun activities and found out how cool science really is!
Thanks to Ian Affleck and our Science Rocks! Team Leaders, Rebecca, Ali, Valerie and our special volunteer for the week Holly for making yet another Science Rocks' week fun and fabulous!
Be sure to check out the fun in our SCIENCE ROCKS! Flickr album! More photos to come!
For more information on Science Rocks! please visit our WEBSITE