Please welcome the new Math Mania Team!
Judy Larsen, Theresa Mulder, and Karin Loots
Math Mania Events
October 7th, 2015 – Upper Sumas Elementary
February 3rd, 2016 – Promontory Heights Elementary School
May 25th, 2016 – Chilliwack Central Elementary School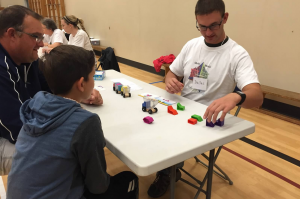 Math Mania is a popular evening event that has been running for over six years. Elementary school students and their parents engage in an evening of fun with math games and logic puzzles. Students and faculty from the Mathematics and Statistics Department volunteer as monitors for the event. The synergy of mathematical demonstrations, puzzles, and hands-on activities is a delight to all! The intent is to show children – and their parents – how much fun there is to be playing with mathematical games and concepts.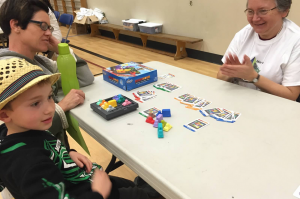 Math Mania was born out of a passion for sharing the joy and beauty of mathematics. Until this year, the event has been tirelessly organized by Susan Milner of the Mathematics and Statistics Department. However, Susan has recently retired, and a committee has formed to keep this popular event alive.  Karin Loots (Mathematics and Statistics), Theresa Mulder (Institutional Research), and Judy Larsen (Upgrading and University Preparation), have taken on the role of continuing Susan's legacy.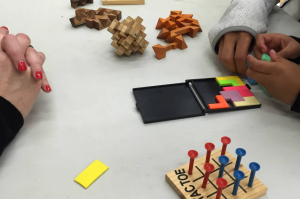 The first Math Mania event of the year will be on October 7th at Upper Sumas Elementary School in Abbotsford. The event has already attracted ample attention from student volunteers, faculty, and the teachers of Upper Sumas Elementary School. The Math Mania organizing committee looks forward to creating an atmosphere brimming with excitement about mathematics. Future dates include Promontory Heights Elementary School on February 3rd, 2016, and Chilliwack Central Elementary School on May 25th, 2016.
See more images on Shutterfly.
Contact us:
Email: mathmania@ufv.ca
Mathmania is presented by the UFV Mathematics & Statistics Department in conjunction with the Pacific Institute for the Mathematical Sciences.