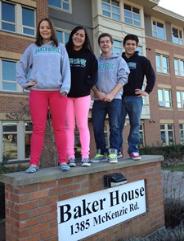 Residence Services is now taking applications for our summer 2016 and fall/winter 2016/17
Applications available: Front Desk Assistants and Residence Assistant
The job postings are also open on CareerLink. Each job posting includes a job description, an application package and a reference form.
Deadline to apply is February 19, 2016.
Looking for students who are service oriented, passionate about building community, have experience implementing programs and events and want to grow personally and professionally in a leadership capacity.
Positions Available
2 – 3 Summer Front Desk Assistants                   May 1 – Aug. 30, 2016
9 – Fall/Winter Front Desk Assistants                Aug 16, 2016 – Apr 30, 2017
1 – Senior Fall/Winter Front Desk Assistant     Aug 16, 2016 – Apr 30, 2017
2 – Summer Resident Assistant                            May 1 – Aug 30, 2016
7 – Fall/Winter Resident Assistants                     Aug 16, 2016 – Apr 30, 2017
Contact: Residence Services