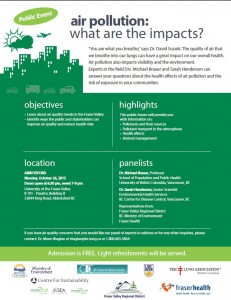 Admission is FREE. Light refreshments will be served.
Monday, October 26, 2015
Doors open at 6:30 pm, event 7-9 pm
University of the Fraser Valley
B 101 – Theatre, Building B
33844 King Road, Abbotsford BC
"You are what you breathe," says Dr. David Suzuki. The quality of air that we breathe into our lungs can have a great impact on our overall health. Air pollution also impacts visibility and the environment. Experts in the eld Drs. Michael Brauer and Sarah Henderson can answer your questions about the health effects of air pollution and the risk of exposure in your communities.
objectives
Learn about air quality trends in the Fraser Valley
Identify ways the public and stakeholders can improve air quality and reduce health risks
highlights
This public forum will provide you with information on:
Pollutants and their sources
Pollutant transport in the atmosphere
Health effects
Airshed management
panelists
Dr. Michael Brauer, Professor
School of Population and Public Health
University of British Columbia, Vancouver, BC
Dr. Sarah Henderson, Senior Scientist
Environmental Health Services
BC Centre for Disease Control, Vancouver, BC
Representatives from:
Fraser Valley Regional District
BC Ministry of Environment
Fraser Health
If you have air quality concerns that you would like our panel of experts to address or for any other inquiries, please contact: Dr. Menn Biagtan at biagtan@bc.lung.ca or 1.800.665.5864
presented by
BC Ministry of Environment, BC Centre for Disease Control, BC Lung Association, UBC, Fraser Health, Fraser Valley Regional District, UFV Centre for Sustainability, UFV Faculty of Science, UFV Facilities, UFV Students for Environmental Advocacy