Vancouver Sun reports that researchers at the University of the Fraser Valley believe drones may finally silence the cannons that boom throughout the summer on blueberry farms.
Professor Tom Baumann and his team are reprogramming helicopter-like UAVs — properly known as unmanned aerial vehicles — to fly preset patterns over ripening blueberries in the hope they will scare way the birds that feast on farmers' fruit and kill their profits.
In a demonstration flight last week, UFV instructor Myles Andrew piloted a four-prop drone quietly over Abbotsford berry fields, though gusting winds made landings difficult.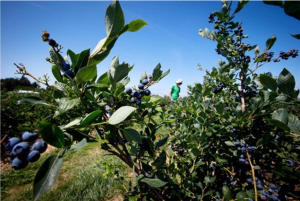 The goal is to create an affordable drone that flies in a pattern across the fields using GPS positioning and then returns to a charging base until the next flight, all without direct control or supervision from human beings, Baumann said.
"We want it to fly around, scare the daylights out of the birds — especially the starlings — and keep them nervous enough to stay away during harvest," said Baumann.
(Images credits – Vancouver Sun)