Congratulations to this year's award recipients of the Faculty of Science AAAwards!
Each year, the Dean of Science chooses a member of science for each of the following categories and the awards were handed out during the last Faculty Council meeting of the year by Vice-Chair Greg Schlitt.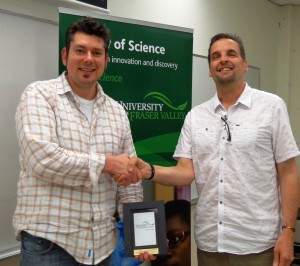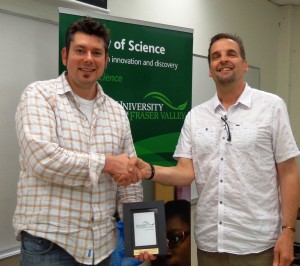 James Bedard – Awesome Achievement Award, for overall excellence in academic endeavors
James has displayed excellence in teaching, scholarship and service among our new permanent faculty. He has supervised, on average, three students in research projects in each of the last 3 years including several students who have won institutional, national and international awards. James has been active not only in scholarship and research (participating in conferences, grant applications and co-authoring several articles), but also in service (participating in university, faculty, and department committees), as well as being an exceptional teacher that students are fond of and speak highly about his instructional dedication.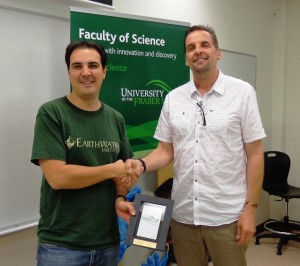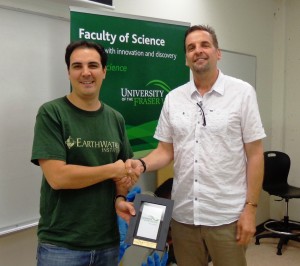 Greg Schmaltz – Terrific Teaching, for instructional excellence during past 3 years
Greg was awarded the Terrific Teaching award for excellence in teaching for 2015 among our Science Faculty. Greg's dedication to student learning, and the concern and care he provides to students has not gone unnoticed. There have been many students that have praised his knowledge, helpfulness and passion for teaching biology courses from introductory to upper level courses, directed and field studies.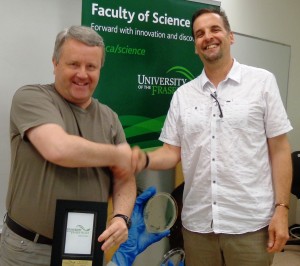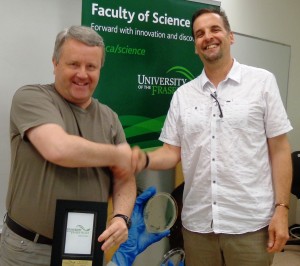 Olav Lian – Remarkable Research, for excellence in scientific research endeavors
Olav's scientific research achievements have been noteworthy throughout the university over several years at UFV and the Faculty of Science honours your recent achievements including a large number of peer reviewed research publications, grants, presentations and student involvement. Furthermore Olav's most recent article in Nature (vol 520: 438-439), cements his reputation as a renowned scholar at the global scale.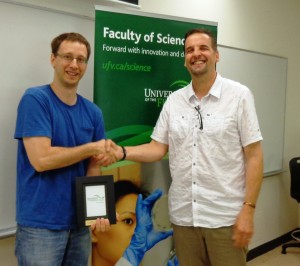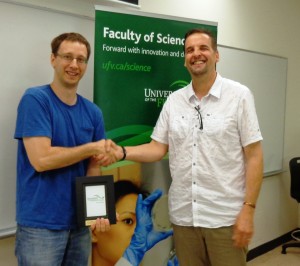 Cory Beshara – Outstanding Outreach, for excellence in community outreach events
Cory's dedication to students as a Science Advisor and as a Science Faculty member has not gone unnoticed as he volunteered in many events. Including his assistance in the organization of the Fraser Valley Regional Science Fair, participation in UFV's micro lecture series, organization of UFV's Research and Scholarly Capture Project, and other community outreach events.  Cory's overall assistance to students has also been noteworthy.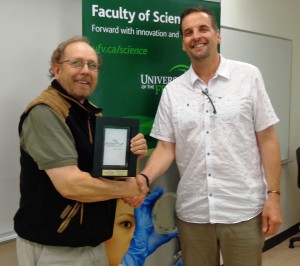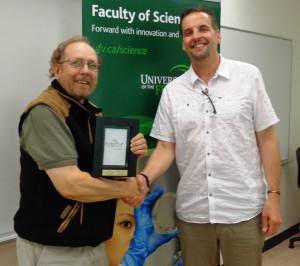 Patrick Harrison – Superb Service, for superb performance of service duties for academic, non-academic & staff
Pat consistently provides excellence in service to the university community and the regional community at large among our Science faculty. His positive "can do" attitude, cheerful smile and dedication to environmental sustainability on and off campus, are worthy of recognition. Pat's assistance in the organization of UFV's Green Speak Series, running the Centre for Sustainability, and serving our students deserves highlighting. For instance, the recent award that our student, Ashleigh Yakemchuk, won as the Green Leader of Tomorrow from the Abbotsford-Matsqui Rotary was possible because Pat made the effort in nominating her despite his busy schedule. His selfless and behind-the-scenes work served not only UFV, but also the community at large. For instance, as president of Hike Canada and Hike BC, he more than deserves this recognition. It is noteworthy that Outdoor Recreation Report's Spring 2014 Vol. 25 No. 1 issue on pages 5 and 14, profiled Pat as a noteworthy outdoor activist, and we are very proud of his achievements.
Nicole Klassen – Superb Service, for superb performance of service duties for academic, non-academic & staff
Nicole's excellence in service to the faculty, the university community and the regional community at large for 2015 among our Science staff has been exemplary. Her  "take charge" and "can do" attitude, problem-solving skills, financial savvy and commitment to the success of faculty, staff and students in a fiscally challenging climate, were very much appreciated, not only by the Dean of Science, but by all who asked for her assistance and received them in a most efficient and timely manner. Nicole's commitment, dedication and supportive attitude, while an interim Executive Admin Assistant to the Dean of Science, materialized in the smooth running of the Faculty of Science, as well as in UFV-wide activities in which she volunteered, such as convocation and community-liaised events such as the Abbotsford Mount Lehman Community.