Profile of an outdoor activist: Pat Harrison – by Dave King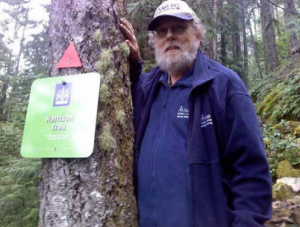 Pat Harrison never intended to become an environmental advocate. He was born in Los Angeles and subsequently lived in Wisconsin and Montana. He attended high school and university in Montana. After university, he entered the US Army in 1968 and served as a helicopter mechanic for three years, including a one year tour in Vietnam. When he finished his stint in the US military in 1970 he was hired as a US Park Ranger at Mt. Rainier and North Cascades National Parks. In his spare time he, his wife Susan and their son Kyle hiked extensively including Mt. Rainier, Mt. Baker, Mt. St. Helens, and Glacier Peak.
…
In 2003 Pat moved from UBC to the University of the Fraser Valley. He continues to enjoy teaching biology at UFV where he serves as chair of the Centre for Sustainability. He has recently developed a new mycology course and manages to spend a little time on mycological research.
Read the full article:  orcbc.ca/documents/Reports/ORC_Report_Spring_2014.pdf