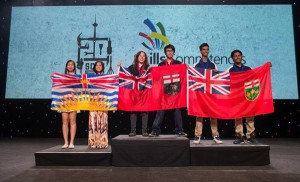 Congratulations to our UFV Grads Elijah Baluyan, Karmyn Chretien, and Patty Chomseng, who not only graduated this year from UFV with the Animation Arts Certificate, but also came home from the Canadian Skills Canada competition in Toronto this past June with awards for 2D & 3D character computer animation.
See full Article Below…

ABBY NEWS
Four Abbotsford students who competed in the Skills Canada Competition last week in Toronto have returned home with medals.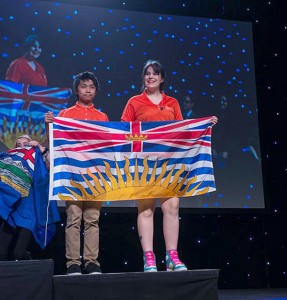 Elijah Baluyan and Karmyn Chretien of Robert Bateman Secondary took silver in 2D character computer animation, while Patty Chomseng and Monica Sivongsa of Rick Hansen Secondary earned bronze in 3D character computer animation.
Dawson Procee of Abbotsford Senior Secondary also attended the event, competing in welding, but did not place in the top three.
The Skills Canada event ran from June 4 to 7. Gold medal winners from that event now compete in the WorldSkills Canadian Trials for a chance to win a spot in the WorldSkills Competition in Sao Paulo, Brazil in 2015.
The five Abbotsford students qualified to attend the Skills Canada Competition after winning gold medals at the BC Skills Contest at Tradex in Abbotsford in April.
---
Link to full Article… Abby News – June 9, 2014