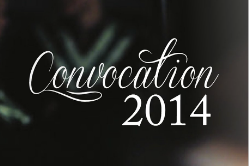 Nicole Wierks won UFV's Governor General Silver Medal award ( see her achievements in http://blogs.ufv.ca/blog/2014/06/nicole-wierks/ ). There were several other students who were outstanding in the graduating BSc class of 2014. Dean Lee noted during the third Convocation ceremonies on June 13, 2014, that in this graduating class there were many superb students who had achieved high GPA's as well as contributing to the life of UFV.
Mandeep Saran was highlighted as the top Biology student and therefore received the Outstanding Achievement Award for Biology. She has many awards under her belt including UFV President's Entrance scholarship, Faculty of Science Academic Scholarship, Chemical Institute of Canada Award, Dr. Norm Todd Memorial Annual Scholarship, etc. She was also quite active in extracurricular activities having been Student Life Ambassador, President of Aiding Communities Everywhere, volunteer for BC Cancer Centre, Menno Place Residential Care Facility, Abbotsford Regional Hospital, Hospice Society, etc. She is also physically active playing badminton, volleyball, running, biking and hiking. A well rounded individual that deserves recognition. Mandeep will be going to UBC Med school this summer, but in the meantime, she is working on a project dealing with the evaluation of nutraceuticals in fish and bee cell cultures with a Natural Sciences & Engineering Research Council of Canada (NSERC) Summer Undergraduate research award.
John Andrew Alexander was awarded the Dean's medal for the Faculty of Science. He has been phenomenal both inside and outside the classroom. Andrew was raised in the Fraser Valley and was homeschooled before he began his studies at UFV in 2010. In his first year at UFV, Andrew was recognized for outstanding achievement  in first year BSc, including the Department of Chemistry First Year Outstanding Achievement Award. He continued to excel academically over the years and he received several other scholarships and was in the Dean's Honours roll for all 4 years of his academic career at UFV. He was recently featured in the alumni Standout magazine for his leadership role in the Biology-Chemistry student association, his participation as student representative in the Faculty of Science Council and his volunteer work as mentor w UFV Connect. As well as being academically exceptional, Andrew actively and enthusiastically participated in many school events including the Student Ambassador Program and Biology-Chemistry Student Association. He was also a member of UFV's Rowing Club and still found time to volunteer at the Abbotsford Regional Hospital, the Aldergrove Animal Hospital, and in several veterinary practices. Andrew represented UFV at the London International Youth Science Forum in 2013 and presented part of his research funded by NSERC. He will be off to UBC with the prestigious Alexander Graham Bell NSERC scholarship to pursue graduate studies in Biochemistry and Molecular Biology.