Archived from UFV Today, October 11 2013.  Original post by Darren Macdonald.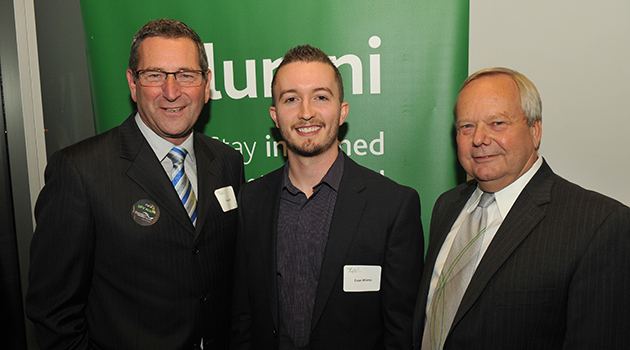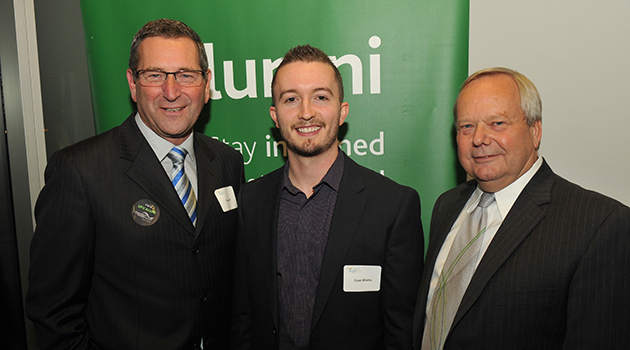 Evan Wiens hasn't been a dentist for very long, but he's already packed a lot of professional experience, leadership, and community service into his career.
This year's winner of the Distinguished Young Alumni award at the University of the Fraser Valley — reserved for a high achiever under the age of 35 — has been making an impact at every stage of his education and career.  Even before graduating with his Bachelor of Science degree with a major in biology and minor in kinesiology from UFV in 2006 he was beginning to make his mark.
Wiens, just turning 30 this month, has led volunteer dentistry projects in the Downtown Eastside, in Abbotsford, and in rural Aboriginal communities. He serves on the editorial board for the BC Dental Association Journal.
He was actively involved in several aspects of the dental program at UBC, where he completed dental school in 2012. He has sat on boards to help select future dental students while still a student himself, mentored third-year students while in fourth year, and served as clinic chief for UBC's community dental clinics.
Professionally, he continues to learn. Just into his second year of practice as a dentist, he is enhancing his education by taking part in a program covering the latest in esthetic, implant, and restorative dentistry.
While at UFV as an undergraduate he made the dean's list every year, won the award for highest achievement in fourth-year biology, volunteered in local classrooms, taught Sunday school, and helped at his church with music and audiovisual production. He also worked several jobs, including shifts at his dad's mill and a long stint as a Keg waiter.
While a UBC dental student he won multiple awards including the BC Dental Association's award for high academic standing, leadership, and community service, and he was a finalist for an award for outstanding leadership from the American College of Dentists.
And he has new and happy responsibilities to juggle as a husband, and a father to newborn baby boy Holden as his family establishes themselves in Kelowna.
Many people would struggle with simply meeting the academic challenges of university or professional school, or establishing oneself in professional practice, but giving and altruism has always been an important part of Wiens' life.
"Helping people and giving to the community is kind of an addiction for me," he says, crediting his wife Jennifer for providing moral support for his many volunteer projects. "When you're doing something to help people just because you want to, not for money, they really appreciate it, and the good feeling you get from doing it is infectious. Students often feel they should volunteer because it will look good on a resume or application, but they should just do the kind of volunteering they feel drawn to and find joy in it. If they do it for the right reasons then soon they'll be wondering when they can volunteer again!"
Like a lot of undergraduate students, Wiens wasn't exactly sure what he wanted to do professionally when he was in his first few years of university.
Dentistry eventually drew him in because he liked the hands-on aspect of it.
"I knew I liked health sciences, but what I was really drawn to was the idea of using my hands to do something useful every day. Practising dentistry isn't usually a life-or-death type of career, but you are improving peoples' lives through your efforts," he says. "They may not like what we do while we're doing it, but they like the results."
He credits Darren Francis, currently deputy registrar at UFV but science advisor when Wiens was there, with helping him to narrow down his options.
"Darren was very helpful in planning and guiding me towards strategies to make it all happen."
Wiens also valued the small class sizes and teaching focus of UFV.
"That's what UFV is known for and what it should hang on to," he said. "What makes it a great school is the ability really focus on learning – in my case the basic sciences – and the personal attention. I spent many hours in professors' offices getting help and guidance."
Several people supported Wiens' nomination for the Distinguished Young Alumni award.
"Evan's real strength is as a leader," said Dr. William Brymer, a UBC professor of dentistry. "We at UBC are extremely proud of Evan's achievements within the dental profession."
"From Evan's first days in dental school it was obvious that he would be a special person who would give tirelessly to his profession and community," said Dr. Ian Leitch, a mentor to Wiens and now a colleague in Kelowna.
"There are few young people who are as academically exceptional as Evan, who also exemplify leadership, and are driven by an honest compassion to give back to their communities," said Nancy Armitage, manager of alumni engagement at UFV. "Evan is a remarkable young man who definitely meets and exceeds the criteria of this award."