Archived from UFV Today, October 11 2013.  Original post by Darren Macdonald.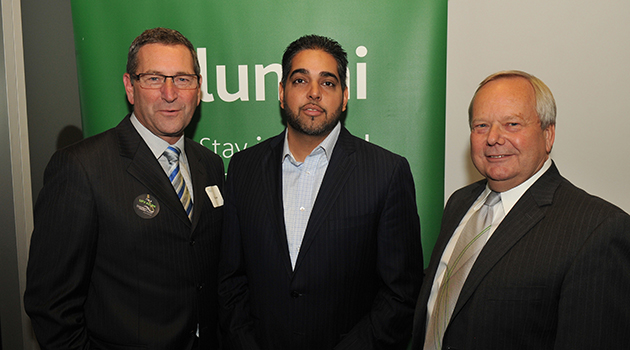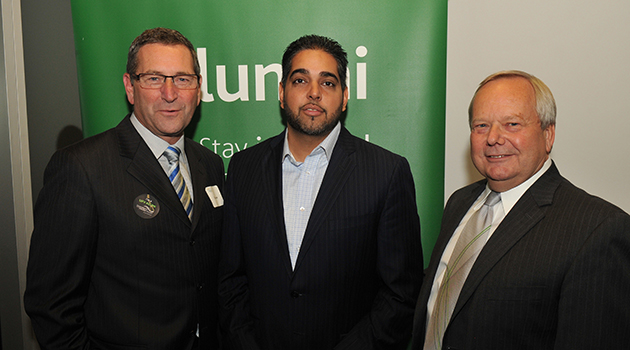 Stu Chahal might have found his professional calling in computer systems, but his passion extends to people — especially those who need it most.
As the 2013 recipient of the University of the Fraser Valley Distinguished Alumni award, Chahal is just now looking back on his rapid ascent since graduating with a Bachelor in Computer Systems degree with a minor in business administration back in 2005.
"My UFV experience was a big factor in my success — it helped me obtain the right skills and a strong foundation that I needed in the early stages of my career," he says.
"This foundation is what I believe stuck out to Cisco Systems and propelled me to the top of their list of potential candidates."
Chahal hit the ground running after graduating from UFV, aided by an impressive background that included winning UFV's Co-op Student of the Year award in 2004, teaching adult IT classes at Langara College, and working as an information services officer with Health Canada.
But it was a decision to join Cisco Systems, Inc. that changed his life — and, though he didn't know it at the time, changed the lives of others as well.
Chahal quickly climbed the corporate ladder, moving to Raleigh, NC for Cisco's new hire program in 2005, then returning to Vancouver in '06 and rising through the ranks at an impressive pace before assuming the role of manager of partner operations in 2012, where he's responsible for leading more than $100 million in national business while developing and executing Cisco Canada's Partner strategy.
"We will all face challenges in our careers, how we overcome these challenges is what sets apart a great business professional from a mediocre one," Chahal says, adding, "The right mentors can help you become great."
Still, the one person you need to rely upon is yourself, he notes.
"I failed multiple times, but my ability to bounce back and continue to take on a challenge with a different approach has not only helped me turn failure into success, but also has allowed me to learn from my mistakes."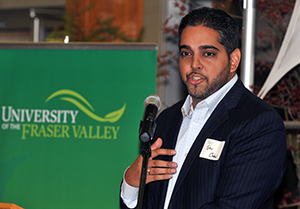 Getting a taste of volunteerism as a member of the Vancouver Board of Trade in 2004/05 only whetted his appetite for community service, so Chahal began mentoring a young boy through Big Brothers & Big Sisters of Greater Vancouver in 2006. Though the minimum commitment is only one year, Chahal has stuck with his young charge ever since, receiving the Top Mentor award in 2012, recognizing his five years of impressive service.
In her letter supporting his Distinguished Alumni nomination, Big Brothers of Greater Vancouver mentoring coordinator Rose Higgins said Chahal has "demonstrated selfless motivation toward improving the life of a child through his reliability, dedication and maturity" while helping his 'Little' embrace new activities and understand other people's feelings.
"Stu is an amazing role model and there have been positive changes in Stu's Little Brother as a result of his consistent and positive influence," wrote Higgins.
Likewise, Chahal has positively impacted other youths through his involvement with Family Services of the North Shore.
"Stu's passion and commitment to the work we do has had a significant influence in Cisco's decision to annually sponsor the Winter Family Ball, while contributing to the success of this event and the awareness of our agency," Family Services fund development manager Diana Cowden wrote in support of Chahal's Distinguished Alumni nomination.
And that's not all for Chahal, who's also active in fighting diabetes by volunteering since 2009 with JDRF on the TELUS Walk to Cure Diabetes, an annual research fundraising event aimed at curing Type 1 diabetes.
The Cisco group has raised more money every year since Chahal got on board, so far helping Cisco contribute upwards of $28,000 for diabetes research.
"We are honoured that Stu is one of our volunteers and that he has chosen our organization to assist," said Chris Lowe, JDRF B.C. and Yukon regional manager.
Best of all, he's ensuring colleagues continue to contribute by serving as a member of the Cisco Canada Civic Council.
All this while marrying Dupinder in 2008 and welcoming their first child, Armaan, in 2011.
"When you're equally passionate about multiple areas, it never feels like you are balancing them. I'm extremely passionate about my family, work, and volunteering. They seamlessly integrate together and no one item seems to be out of sync at any given time."
Considering his long list of accomplishments, Chahal made for an obvious award recipient, according to UFV Alumni Engagement manager Nancy Armitage.
"The Distinguished Alumni Award was established by the UFV Alumni Association in 2003. It has been conferred to 10 exceptional UFV alumni since its inception. Stu's outstanding academic achievement coupled with his tireless commitment to volunteer work supporting children and youth make him an excellent recipient for this year's award," Armitage said.