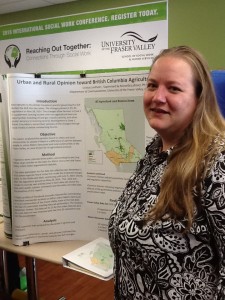 Lindsay Lindholm's project, "Urban vs. rural opinion toward B.C. Agricultural Land Reserve legislation: An analysis of comments on online news stories" was recognized for research excellence at the Monday June 1, 2015 awards dinner. An invitation to the dinner, an event hosted by the University of the Fraser Valley's Research Office, is much coveted by students, faculty, and administration among the plethora of year end activities. This year's did not disappoint.
Lindsay has a love for learning and is entering her fourth year of the Bachelor of Arts program, pursuing a major in Political Science, a minor in Communications and a certificate in Adult Education. She previously obtained a Diploma in Horticulture specializing in Greenhouse and Nursery Production (thus her special interest in the agricultural land reserve), and a certificate in Computer Information Systems. Lindsay states that "The research project allowed me to utilize my combined educational interests while developing my most valued skills of communications and research. I would like to apply my education to a career in the field of Agriculture with particular interest in agriculture education and public policy."
In the report, originally developed as part of her Professional Formal Research Report Writing class (CMNS 351) Lindsay analyzed reader comments to online news articles about proposed amendments to the British Columbia Agricultural Land Reserve (ALR) as they were approaching a province-wide referendum vote in 2014. The amendments divided the ALR into two zones that allow farmers in one Zone to supplement farming income with non-agricultural land use such as oil and gas, the other would allow greater leniency for development. British Columbians voiced their opinions towards the changes through social media in online commenting forums that followed the online news. Lindsay decided to look at whether there were opinion differences based on whether the articles and commenters were in an urban or a rural area. She compared the opinions of people in urban Metro Vancouver and rural agricultural communities of the Fraser Valley.
*****************************
Dr. Marcella LaFever (University of New Mexico, 2005) is an Associate Professor in the Communications Department at the University of the Fraser Valley. She specializes in intercultural communication and brings that expertise to various subjects such as communication for workplace, instruction, social media, team and public speaking contexts.