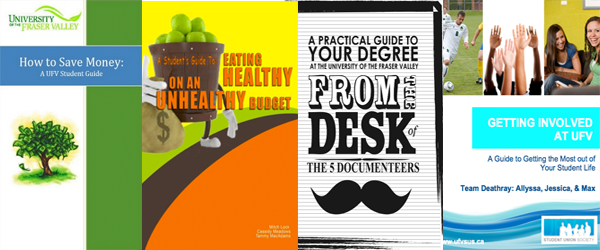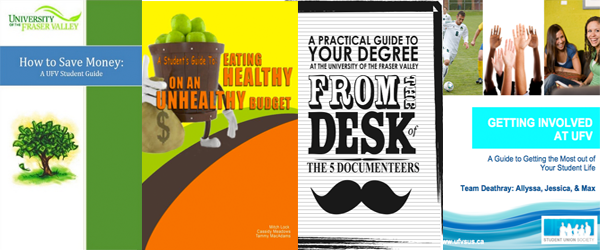 What information does the reader need? What's the best format to deliver it? These were the essential questions that students in CMNS 390: End-user Documentation Design worked on answering over the Winter 2012 semester in hopes of making the lives of UFV students easier.
This past Wednesday UFV staff from Student Life, Advising, Student Services and Arts Advice were invited to attend document release briefings to ask questions, provide feedback and consider adopting the documents as part of the UFV retinue.
Four student teams, after participating in a focus group session at the beginning of the term, decided to design documents titled:
Healthy Eating on an Unhealthy Budget
A Practical Guide To Your Degree At The University Of The Fraser Valley
Getting Involved at UFV
Kudos to the students on their excellent documents and presentations:
Cameron Cal, Allyssa Epp, Nader Hussein, Anusha Iyengar, Clair Jensen, Jacqueline Klassen, Mitchell Lock, Jillian Lowe, Tammy Macadams, Cassidy Meadows, Maxwell Mooney, Leonard Naimi, Kacey Oravec, Jonathan Vandermey, Jessica Webster.