As Sikh Heritage Month draws to a close, CHASI and UFV's South Asian Studies Institute (SASI) collaborated to share reflections from SASI Research Fellow Dr. Inder Mann on the long history of Sikh activism, and how it continues through the present day.
In commemorating Sikh Heritage Month in BC and all over Canada, we take a moment to pay tribute to activism for social justice by Canadian Sikhs in this moment and in the past. On the eve of the 19th century, Sikh migration commenced to western countries such as Canada, the USA and Great Britain. Since then, Sikh immigration into Canada, now over a century old, has gone through various phases and shifts as policies towards immigration by successive Canadian governments have seen various modifications. While Sikhs today constitute a large and easily recognizable community in Canada that is indispensable as a vital economic force in the country, they have also tried to construct an 'identity' of their own. The articulation of identity in the case of immigrant Sikhs has depended a great deal upon continued activism of the Sikh community in general. As such, Canadian Sikh activism is a recent historic phenomenon, however, Sikhs have valued the ideology of peaceful activism as learned from the teachings of the first Sikh Guru Nanak Dev ji in the 16th century, from when he raised his voice against the atrocities of the Moghul ruler of the time – Babur (1526-1530 AD). This legacy of activism was continued by successive Sikh Gurus into the following centuries as Sikhs valiantly fought against foreign invaders in their frontier state of Punjab which was a main and lucrative route for invaders. In the 18th century Punjab's ruler, Maharaja Ranjeet Singh followed the same tenants and created a Sikh kingdom by setting an example of providing fair and equitable justice to all people in his jurisdiction. After his rule, Sikhs continued to raise their voices in India and in the diaspora, against colonial rule, and played a leading role in the Indian national freedom movement into the 19th and 20th century.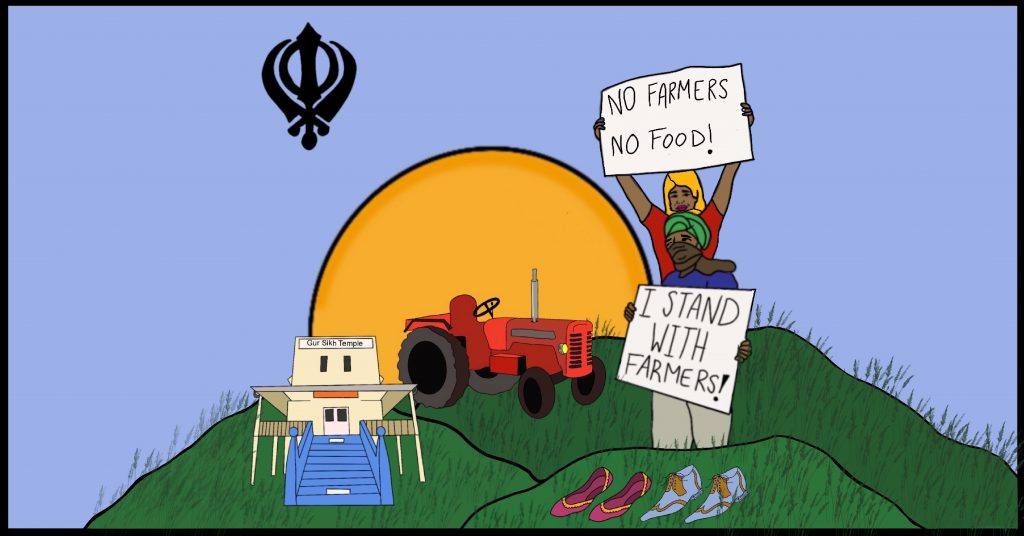 Almost upon arrival in Canada at the turn of the 20th century, Sikh immigrants faced intense prejudice, racism and discrimination by European settlers. Their entry as immigrants and their status as British Subjects, which placed them on an equal footing to Europeans, was vociferously opposed. To appease European desires for Canada as a white man's country, laws were quickly passed in the first decade of the 20th century that prevented further Indian immigrants from entering Canada. Sikhs challenged the racist laws by peaceful protest, lobbying and challenges in court. At the same time the right to citizenship was taken away from all South Asians who were already in Canada, and the right to vote was denied. South Asians actively opposed racist policies by filing petitions in courts that raised objections against discrimination in Canada on the one hand, and made continued demands for Indian independence from British Raj on the other. This they did for forty long years (1907-1947). Canada witnessed another upsurge in Sikh diaspora activism in 1984 in response to political, economic and religious struggles of Sikhs in India.
Currently, the South Asian Studies Institute is studying how in 2020, the Sikh diaspora's latest commitment to peaceful activism has expressed itself in support of the farmers' movement in India. We are aware that the Canadian Sikh community is directly and/or indirectly affected by agricultural laws promulgated by the Indian Parliament in June, 2020 without consultations with any individual farmers or organized farming groups. Diasporic connections for Sikh Canadians to the current farmers' issue in India are linked to ancestral agrarian land holdings and with remaining families and close relatives whose livelihoods still depend on agriculture. Concerned about the future of their lands and farming relatives in India, Canadian Sikh are engaged in active and peaceful protests in major cities in Canada.
Protesting farmers and affected diaspora communities globally are consistently asserting that the new laws will destroy farmer livelihoods who are already facing worsening economic conditions. To demand a repeal of these laws, Indian Sikh farmers began peaceful protests in the month of September 2020 soon after the Acts were introduced. Farming unions began holding local protests firstly and mostly in Punjab in solidarity with farmers and workers – Kisaan/majdoor andolan. In November after two months of local protests, tens of thousands of farmers and union members notably from Punjab and Haryana peacefully marched towards the nation's capital under the slogan "Delhi Chalo" ("Let's Go to Delhi"). The peaceful protesters were confronted by a militarized police presence at the Punjab-Haryana and Haryana-Delhi borders. The government ordered state police and law enforcement to attack protesters with water cannons, batons, and tear gas to prevent the farmer unions from entering Haryana first and from there into Delhi.
The protestors bravely faced harsh and brutal treatment, but continued their march and finally set up their protest on the five borders of Delhi in the cold winter months. The early north India demonstrations spread across the country and represent the largest ever mobilization of farmers in independent India. The agitation has garnered support from agricultural labor union members, most of whom own little or no land and belong to oppressed castes and they along with female farmers, are in the forefront of the present agitation. After more than 100 days farmers continue to block the five borders of the National Capital, demanding a repeal of the laws. Government has arrested young activists on sedition charges, but the Supreme Court has granted them bail and the courts have ordered a stay on the new farm laws.
Sikh Canadians have expressed their support for the farmer's protest by helping to shine a light on this mass movement to ensure global attention and support. Responding to international scrutiny, the Supreme Court of India has demanded that the Government work towards reconciliation and come to the table. Alongside this, the Canadian government, national media and public opinion have expressed support for farmer responses in what has become the world's largest and longest peaceful farmers movement. Individuals and organizations across global diasporas are continuing to rally and offer support for continued peaceful demands by lending moral and financial support on the ground. There is hope for both reform and reconciliation that takes into account farmer needs and sustainable agriculture. We aim to study both the policy implications and alternative measures that can bring this movement to a mutually satisfactory conclusion. Sikh Heritage Month gives us the opportunity to shine a light on Canadian Sikh activism that is both peaceful and purposeful.
This illustration by Celina Koops is part of CHASI's ongoing series acknowledging some of the significant annual observances that align with our core values. To learn more and see the other illustrations in this series, please visit our observances page.