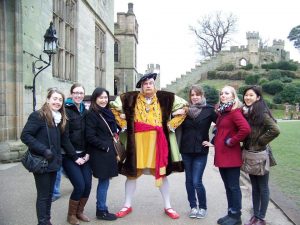 Do you want to escape the rain in BC?  Do you have the urge to explore different cultures and meet new friends?   Do you ever wish that when you look outside your classroom window you could see the Alps, the Eiffel Tower or the bright Australian sun?  If so, we have two events next week on Abbotsford campus to explore exciting opportunities for business students to studying overseas!  Come hear the exploits from returning study abroad students or students that are visiting UFV.  You can go for an entire semester or just for a few weeks in summer.  Also check out the UFV Study Abroad blog at http://blogs.ufv.ca/studyabroad/.
The first event will be a general info session for business students.  The Study Abroad coordinator from UFV International will answer all your practical questions on how to get you overseas next semester or next year, including available scholarship money!  Come and mingle with veteran, visiting and future study abroad students and enjoy a slice of Italian pie!  If you are interested in going next term or another term down the road, you won't want to miss this session.
Event 1 – Study abroad info session for business students
When:  October 4
Time: 12:00pm – free pizza!
Where: C2431
The second event the next day is an opportunity to meet with our partner university in Lucerne, Switzerland.  If you are at all interested in studying in Switzerland for a semester, this is an excellent opportunity to learn more about this specific partner.
Event 2 – Meet with the University of Applied Sciences, Lucerne, Switzerland!
When: October 5
Time 11:45am
Where C2433
For further info contact kevin.dewolde@ufv.ca.