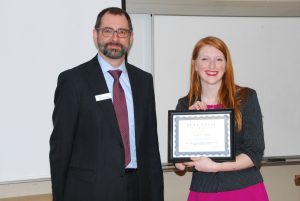 The School of Business is very pleased to announce that this year's Sustainable Development Essay Competition winner is Sarah Speight for her essay entitled, "Apiculture and Essential Skills Development Program Proposal".
In her paper, Sarah outlines, "a framework for an apiculture and essential skills training program at [the] University of the Fraser Valley to provide foundational employment skills and educational opportunities to community members who have been unemployed over a long period and face multiple barriers to employment" (Speight, 2017).
Her paper goes on to outline the ways in which this interdisciplinary program could be developed to meet several of the UN's Sustainable Development Goals including life on land, partnerships for the goals, good health, quality education, reduced inequalities, decent work, and responsible consumption and production.
Sarah presented her paper at this year's Sustainable Development Symposium and received the top prize of $500 for the UFV Bookstore.
Well done Sarah!