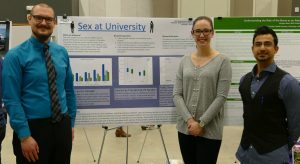 The UFV School of Business is proud to have been represented by several groups of accomplished students at UFV's annual Student Research Day which took place this past Wednesday. The poster presentations were held in the Student Union Building, Great Hall and the event also featured micro lectures in the south atrium.
Business students presented research posters on a variety of topics ranging from school catchment areas, Eco marketing, Fortune 500 companies, and improving the engagement of Mission's Chamber of Commerce members. Presenters discussed their research, findings, and made suggestions for further studies.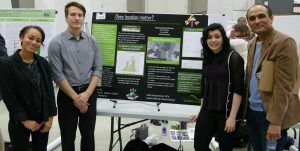 This annual event brings together students from across the University, providing a forum for interdisciplinary discussions and learning.
A special thank you to all of our student presenters for doing such an excellent job representing the School of Business, as well as Associate Professor David Dobson for supporting our business students presenting at this year's Student Research Day.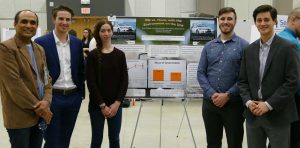 Students and Faculty, interested in learning more about what research is being undertaken by our students, are invited to the 5th Annual School of Business Student Research Day Event on Tuesday, April 4th at 11 am. This event will also be held in the  Student Union Building, Great Hall and will feature presentations from six student teams.
The presentations will be:
Reference Point: Does it Matter? By: Devan Driediger, Curtis Plug, Charles Spencer, Miranda Spencer, and Jasnoor Sidhu
Green Trends Among Fortune 500 Companies By: Graeme Crich, Kyle Rubenuik, and Aidan Gibbons
Gender at University: Analysis of Gender Equality in Public Universities Across Canada By: Ryan Gienger, Bronwen Kenyon, and Kyle Sethi
Effects of Valence Framing on Eco-Friendly Seafood Purchase Decisions By: Chelsey Ens and Jonathan Ens
Analyzing Transactional Data for Better Customer Relations Management By: Brahmjot Singh Bains, Jeremy Henshaw, Jeffrey Sandhu, and Dawnya Harder
The Performance of Opinion Price Models, a Comparison By: Dayton Marks