On Thursday, March 9, 2017, the UFV School of Business hosted the Abbotsford Chamber of Commerce, Business After Business Mixer.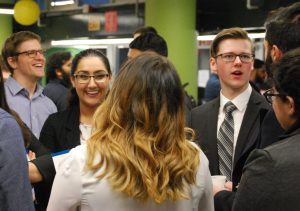 This event allowed members of the Abbotsford business community as well as students and staff from the UFV School of Business to meet and mingle over appetizers and sample wine donated by Maan Farms.
The Students of UFV's Business 322 – Advanced Selling class were on hand to practice their networking skills and to discuss the challenges and opportunities of "Marketing to Millennials" with business guests. Mark Breedveld said, "It was a great opportunity for our upper level sales-track students to practice their networking skills with members of the business community.  They were able to engage the attendees in dialogue, and, in many cases, to generate leads for their class sales project."
The School of Business offered community members to provide feedback on the development of the new Bachelors Program in Management.
Students and guests alike were invited to consider the integration of sustainability into modern business practices and discuss strategies for achieving sustainability with Blair McFarlane, UFV's Energy Manager who attended the event on behalf of Sustainable UFV.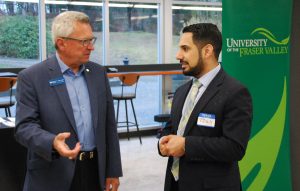 Following speeches by Mark Breedveld, Dr. Frank Ulbrich, and UFV President Dr. Mark Evered, the event wrapped up with a draw for several fantastic door prizes donated by Lordco, Maan Farms, Nintendo, Not Just a Basket, Starbucks, VRC Fitness, and UFV.
The UFV School of Business is proud to support events like this, where current and future business leaders can come together to discuss issues and opportunities for the Fraser Valley.