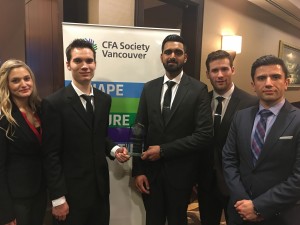 The School of Business is thrilled to announce that on March 11, 2016 a team of our Finance students participated in the Chartered Financial Analyst (CFA) Institute Students Research Challenge, and placed third!
The UFV team worked diligently for over 5 months, and their hard work paid off, when they held their own against graduate level teams from SFU, and placed higher than a graduate team from UVIC, (who last year won the competition) and other undergraduate teams from UBC and Kwantlen. This is an incredible accomplishment for our team, and we couldn't be prouder.
This is a global competition, which hosts more than 4000 students from 865 universities annually, held at three levels, local, regional, and global. Our students shined in the local BC challenge, despite being in their final year of study, with packed academic curricula. This competition is one of the toughest student competitions, and their commitment and work ethic proves yet again that UFV is well on its path to provide the best undergraduate education in Canada.
Congratulations to our students!