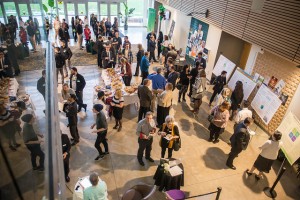 The UFV School of Business and the Abbotsford Chamber of Commerce co-hosted its first Business-after-Business mixer in the SUB building this past Thursday, on February 25th. The event welcomed over one hundred guests from the community, the university, and members of the Chamber of Commerce.
The event served as an opportunity for local businesses to mix and mingle, and gave the School of Business an opportunity to showcase some of our students and programs. There were speeches from the Director of the School of Business, Dr. Frank Ulbrich, the University President, Dr. Mark Evered, and Allan Asaph, the Chamber of Commerce Executive Director. Instructor Mark Breedveld was emcee for the evening, and Director of Campus planning Craig Toews gave tours of the new SUB building to interested attendees. We also had some of our students in attendance, some of whom are working with the Chamber to sell memberships. A class project that is in its third year.
The School of Business promoted three main programs. EPIIC, the Entrepreneurship and Process Innovation/Incubation Centre, which gives individuals the opportunity to grow their business ideas. The Employer Engagement Program connects students with potential employers through company visits, networking events, and other opportunities. the mixer also showcased the School of Business Research Methods class, where students are to do research in the community, this years topic being Abbotsford Tourism.
The event was a complete success. Chamber members were able to see what great things are being done in the School of Business, and were given the opportunity to give input and suggestions for new programming in the School of Business. Attendees were also able to try some delicious wine provided by Maan farms, who were also in attendance of the event.