UFV students shine at the 2023 Skills Canada national competition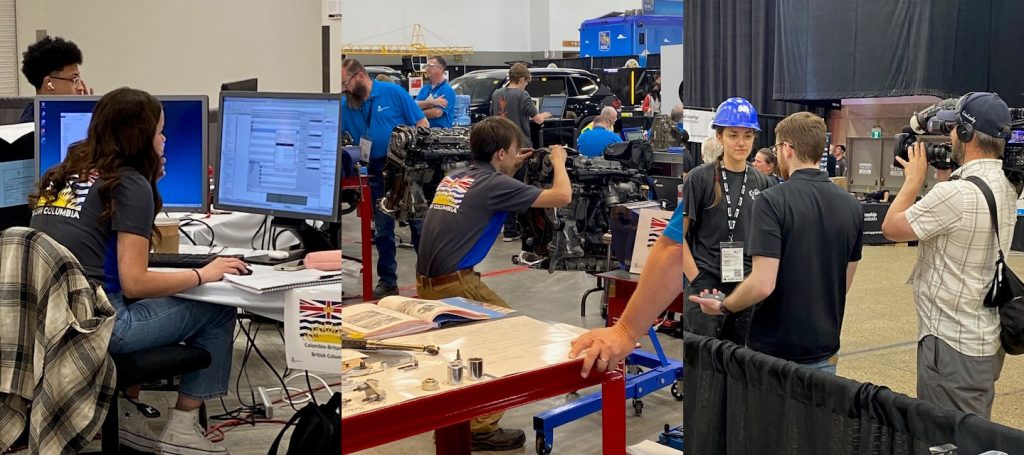 UFV Trades students Carla Vergara, Wyatt Rempel, and Gabriella Neufeld put their knowledge to the test at this year's Skills Canada national competition in Winnipeg.
Carla Vergara led a strong UFV contingent, earning a bronze medal at the 2023 Skills Canada National Competition in Winnipeg.
Held May 25-26, the event featured more than 550 students participating in 45 competitions spanning a wide breadth of skilled trades and technologies. Attracting over 13,000 competitors, it included hands-on Try-A-Trade and Technology activities, providing valuable insights into careers in fields such as construction, employment, information technology, manufacturing and engineering, services, and transportation.
UFV's students earned their place on Team BC by winning gold in their categories at the Skills Canada BC Provincial Competition at Abbotsford's Tradex April 19. All three UFV participants competed in the Secondary category, as dual-credit students enrolled in trades programs at UFV while simultaneously completing high school diplomas.
Chilliwack's Vergara, enrolled in the Architectural Drafting Technician certificate program at UFV, emerged as a bronze medalist in the Architectural Technology and Design category. The GW Graham student created computerized designs and plans to demonstrate her knowledge of envelope design, space planning, materials selection, and construction regulations.
"Despite some challenges, I went into the competition feeling confident and showed off my architectural drafting skills," said Vergara.
"The whole experience not only improved my skills but also gave me the chance to meet new people who were showing off their own talents. Overall, my week in Winnipeg was a great experience, and I totally recommend anyone who has the chance to participate in Skills Canada to go for it!"
Wyatt Rempel, enrolled in the Automotive Service Technician certificate program at UFV and from the Abbotsford School of Integrated Arts, showcased his skills in the Automotive Technology category. Over the course of 12 hours, Wyatt excelled in a series of timed stations, completing practical assignments that involved inspecting, repairing, and adjusting automotive parts and vehicles while meeting industry standards.
Gabriella Neufeld, pursuing the Construction Electrician certificate program at UFV and from Yale Secondary School, exhibited her knowledge in the Electrical Installations category. Gabriella's skills in installing wiring and control systems, troubleshooting using test instruments, and building a project installation were highlighted throughout the competition.
UFV's students received support from Applied and Technical Studies faculty members attending the competition as coaches. Greg Wedel (Automotive Service Technician), Wes Macaulay (Architectural Drafting), and Mike Dieleman (Electrical) played crucial roles in guiding and mentoring the students, ensuring they were well-prepared to face the challenges of the competition.
UFV's expertise extended beyond coaching, as faculty members Brock Hartman and Pat McGurk were present in Winnipeg as members of the Collaborative for High Performance Schools National Technical Committee (CHPS). Hartman served on the electrical installations committee, while McGurk contributed to the welding committee. In their roles, they provided valuable support in the development of the individual competitions and served as judges.
Director of Trades Allan Steidle and Dr. Peter Geller, Dean of Applied and Technical Studies, were present at the event, further showcasing UFV's commitment and support for the students participating in the Skills Canada National Competition.
Geller expressed his pride in the accomplishments of Wyatt, Carla, and Gabriella, stating that they successfully completed their projects and assignments within the demanding and fast-paced competitive environment. "Their ability to meet the deadlines showcased their technical expertise and knowledge, while also highlighting their unwavering dedication, enthusiasm, and professionalism," said Geller.
"It was a day filled with immense pride for UFV."
The Faculty of Applied and Technical Studies achievements at the competition were further recognized when Neufeld was featured on CBC Manitoba news. You can watch the CBC Manitoba news segment at the following link https://www.cbc.ca/player/play/2215650371841.