D3 renovation results in bright, innovative workspace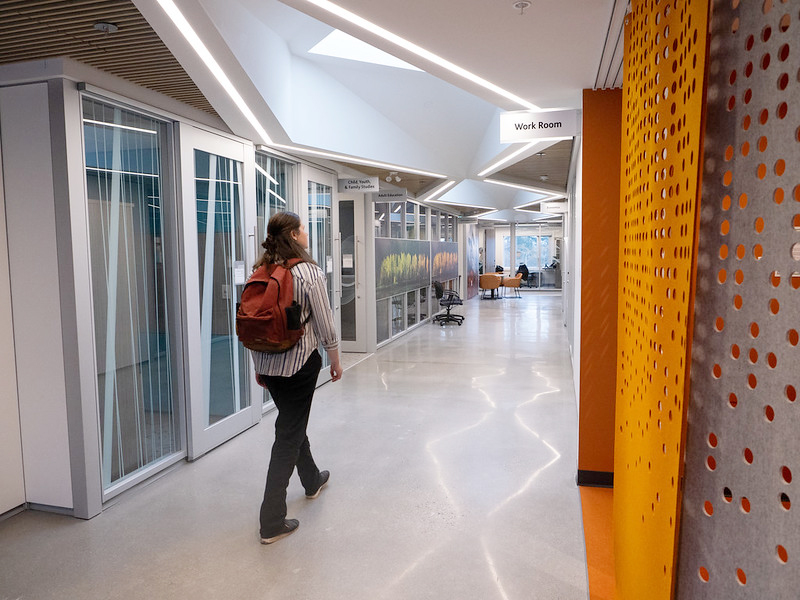 Significant renovations have led to a bright, collaborative space on the third floor of Abbotsford's Building D (D3).
With a modern design intended to maximize natural light and interpersonal connection (see photos here), D3 features a mix of private and shared areas divided into four sections — each servicing a strategic cluster of departments.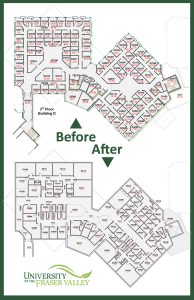 The intention was to help bring people together, says senior campus designer Shelley Young.
"In the clusters we have sub-hallways, and in these layered spaces we've created community areas so that when people come out of a room there's the opportunity and environment conducive to collaborative conversations," she says.
"Staff and faculty groups were involved in the design of their areas, which helped create spatial synergies that work for more than one department," Young adds, pointing to the dedicated staff in UFV's Projects Office who ensured the renovation's success — led by project manager Sunny Rajwan .
A central hallway connects different sections by following a route of existing skylights, with large regional nature photos depicting a change of seasons along the way. The central core offers washrooms, a faculty lounge, an elevator, and flexible meeting areas.
Indigenous elements play a major role in functional design throughout D3, ranging from glass privacy decals mirroring canoe paddles pushing through water, to wood slats inspired by traditional woven baskets.
As with the Building K renovation, UFV's Campus Planning department collaborated with DIRTT (Doing It Right This Time) to allow practical and flexible usage. For D3, that includes flip-top tables, grey writable walls, and rooms designated for either 'quiet' or 'loud' work.
Employees began using the renovated space in late 2022, with the final design elements completed in March 2023.