'Literally a miracle': Escaping a war, two students from Ukraine start over at UFV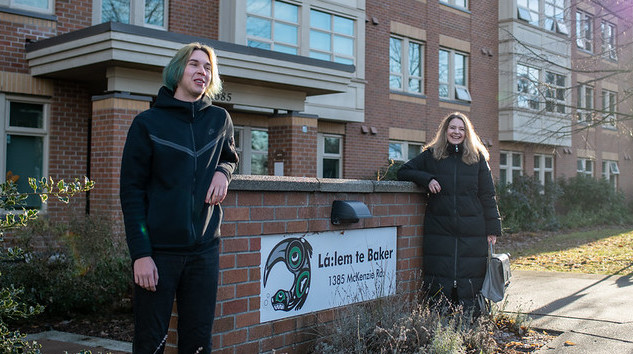 In early March, Daria Tsynda stood at the border of Ukraine and Romania without a plan and with a single bag in tow.
A future that looked so certain and promising only weeks before, one that involved attending university in the Ukraine capital of Kyiv to study business after her upcoming high school graduation, was now one focused on day-to-day survival. With the vicious Russian invasion of her home country, Tsynda and her mother were among the estimated 520,000 civilians attempting to flee Ukraine.
For nearly a week, mother and daughter inched their way to the border and freedom. Tsynda's father drove them through towns and cities in Ukraine — many of which were already decimated by war. They took cover in bomb shelters, where air sirens would blare up to a dozen times a day.
"So, when the air siren goes off and you are driving, you don't really have anywhere to hide because you are on the road and you just keep going and basically just pray that nothing hits your car," says Tsynda, now 17 years old.
"It was definitely very, very scary."
Because of potential military service requirements, men in Ukraine are not allowed to leave. At the border, her father would have to turn around and head back to their hometown of Cherkasy, where Tsynda's dog and aging grandmother waited.
"I did not want to leave them like this when there is a war in my country," she says. "I don't know when I will see them again."
Crossing into Romania marked the end of a once innocent and vibrant life now shattered. However, it also allowed the possibility of a better future.
Eight months later, Tsynda is 8,600 km away from Ukraine. She is now a first-year student at UFV, studying business and living in the Lá:lem te Baker student residence on the Abbotsford campus. Far from terror, her present-day reality is less complex. Living in Canada and joining the UFV community has been a pleasant surprise.
"I was definitely not expecting to be studying here," Tsynda says. "I had heard so much about living in Canada before, you know the nature and people. It's been nice so far."
Tsynda and Andrii Zolkin are the two students selected for UFV's International Emergency Fund (IEF), which supports international students affected by recent crises and catastrophes. UFV International had been discussing and designing this program for years. A series of global events including the pandemic accelerated the urgency.
"We had been looking at creating a fund as a source of support for those impacted by disasters and geopolitical events around the world — not just in Ukraine — although the invasion and then the war in that region ignited a massive displacement of people and young students," says David McGuire, Associate Vice President, UFV International.
The IEF fund covers the students' tuition, housing, a meal plan, and modest relocation allowances. UFV International also assists with the application process, transition to Canada, and settlement.
"Our goal is to provide a level of support that will set students up for success," McGuire says. "And I think the International Emergency Fund is structured to do just that."
For Zolkin, 19, the financial assistance has been welcomed. In 2015, his family relocated to BC to escape the tumult occurring with the Ukraine revolution, which sparked the overthrow of the government. He integrated well with Canadian culture and attended R.E. Mountain Secondary in Langley. But without permanent residence status, his family was unable to afford the international university tuition, so he returned to Kyiv in 2021 to explore university options there.
"I was even planning to maybe go to Moscow for university at some point before all this," says Zolkin, noting the tension between Russia and Ukraine had not reached levels of concern yet.
"Here's a guy who went to high school in our catchment area — someone who would have sat in an auditorium or gymnasium and heard UFV recruiters present," adds McGuire. "But, in retrospect, he picked a horribly unlucky time to return to Ukraine."
As of October, Zolkin is back in Canada and attending UFV full-time, studying programming in the School of Computing. He is trying to rebuild his life. A lot has changed in a year.
A nightmare
There was a tradition in the Tsynda household every Sunday night back in Cherkasy. Tsynda, her parents, and her grandmother would gather by the TV, eat pizza, and watch a show, such as the classic American detective show Columbo.
"We like to rewatch, and we know like every episode by heart," she says smiling, noting the Sunday before the start of the war was no different. "But we still watched it and just laughed and talked together."
Four days later, on Thursday, February 24, Tsynda woke up to the frightening news from her mother that Russia had invaded eastern Ukraine, officially waging a full-scale war.
"I remember this day when everything changed so rapidly," Tsynda says. "We weren't prepared for it."
That same day, Zolkin and his mother were scheduled to travel to Cyprus for a week. During the early morning hours, they were riding in a taxi on the way to Kyiv's airport when they heard a series of bombs.
"We went to the airport and there were many armed men," he says. "They're telling us, 'airport is shut down, no entry', while pointing loaded weapons on us. It was very intense."
In the coming days, the chaos heightened. Both Zolkin and Tsynda's families were back and forth from their homes to bomb shelters in those initial few weeks. Tsynda's parents would take turns staying up at their home, glued to the radio or internet in case emergency evacuation instructions would come in. The shelters were cold and cramped. There were food and gas shortages.
"As you drive by you see destroyed schools, hospitals, militarized locations, and civilian homes," says Zolkin. "You learn to not think of death even though it's always around you."
Early in the war, there was an explosion about 800 meters away from Zolkin's home. Their windows were shattered and the memory of it still triggers him
"I will never forget that sound, the whistle of it falling and getting higher pitched as it gets closer to the ground," he remembers.
Each member of both families would have a single personal bag — filled with only their passports, a few documents, clothes, and toiletries — ready to leave at a moment's notice. Their winter coats and boots would also be always within arm's length.
"If you are woken up during the night, you have like 30 seconds to grab everything and go," says Tsynda.
Once Tsynda and her mother escaped Ukraine in early March, they set their sights on the Netherlands, where a family friend lives. Over the next week, they travelled by bus or train through five different countries before making it to the Netherlands. Tsynda was there for three weeks before she boarded a plane for Edmonton to temporarily live with her sister and possibly pursue her academic dreams.
She spent three months in Edmonton, where she was reunited with her sister, brother-in-law, and a one-year-old nephew she had never met outside of FaceTime. She started to look for universities across Canada, but because of her late arrival she had missed admission deadlines, and scholarship opportunities came few and far between.
"All of that stressed me out so much and I started questioning whether I will be able to get into university here at all," says Tsynda.
Around the same time, UFV had solidified the details of the IEF fund and was accepting applications.
"Because we had very limited funding, we wanted to ensure that the students reaching out to us were genuinely interested in programs that UFV had on offer," says McGuire. "Our correspondence with both Daria and Andrii was exceptional in this regard. They had both done their research about UFV and asked wonderful questions."
"I finally started seeing a clearer path in front of me and that I have real chances now to continue my education here thanks to the support from UFV," says Tsynda.
Zolkin's journey to UFV was less linear than Tsynda's. For military participation reasons as noted earlier, leaving Ukraine as a young and capable male presented a multitude of barriers. Aside from men with disabilities, over 65 years old, or government officials, international university students also had the potential to be excused from serving, depending on the discretion of the border officer.
Even with his history in Canada and acquiring an acceptance letter from UFV, getting clearance at the border was challenging.
"They don't want to let people leave," says Zolkin. "It was just very frustrating going back and forth. Get some documents from the university. Go get them translated. Go there. Try again to get denied. Go back. Ask for more documents."
After four months and six attempts, Zolkin was finally granted permission to leave at the Polish border by the Ukrainian government in July, which was fortunate for him because the country removed exceptions for students to vacate shortly after.
He joined his mother and sister, who had left months prior, in Germany, where he completed the mandatory biometrics (fingerprints, photos, etc.) required by Canada to receive asylum. While he waited for his Canadian visa to be processed, which took three months, Zolkin and his family moved from the Netherlands to Belgium to France before ending up in Hungary, where the cost of living was low, and he started online classes for UFV.
On October 7, Zolkin arrived back in Canada after a year hiatus, escaping a seemingly impossible situation.
"I had to fight for this opportunity to leave and start my life over," he says. "I didn't really have an option, I might have been drafted, then who knows? I might have died."
Moving forward
As the year closes, the Russia-Ukraine war is still ongoing. To date, there have been over 41,000 deaths, 54,000 injuries, and over 14 million Ukraine citizens displaced all over the world.
Zolkin monitors the situation back home, but that often makes him sad. He is moving forward. Since returning, he has reunited with his girlfriend, who he has dated since before he left Canada.
"I would never be able to describe in words what I felt when I saw her at the airport," says Zolkin, crediting her for providing much-needed emotional support throughout the past year.
He joined his UFV classes in person over a month after the fall semester started. Information technology (IT) is his passion; he has been programming computers since he was a toddler living in block housing. He is already mapping out his future.
"I want to get an internship at an IT company for maybe a mobile developer position or a web developer position," he says.
Tsynda often takes the long route to her classes just to admire the natural beauty and serenity of her new surroundings.
"I'm looking around and I see mountains, and I love mountains!" Tsynda says gleefully. "I'm living in such a beautiful place. And a lot of people say it's always raining here. But I love it, I feel inspired."
Finding motivation has never been a problem for Tsynda. She is manifesting the vision she had in Ukraine before the war derailed her plans. At UFV, she is taking five courses, mostly business classes. She plans on either majoring in international business or marketing.
"I have a big goal of starting my own company," says Tsynda. Fittingly, it would be an online platform that would help teenagers choose their future careers.
Right now, Tsynda is just trying to live in the moment. To make memories, gain experiences, and learn and become part of the community. She has not made it to Vancouver yet — but she will soon. She has not been exposed to Indigenous peoples before — but she finds the way UFV acknowledges Indigenous culture touching. She has joined the UFV Advocates for Change student group and plans on joining more groups in the near future.
"You literally just got to step out of your room, and you were emerging into this awesome community, and it just feels so great," she says. "Because it's completely new surroundings, I was worried if I could fit in or make any friends.
"But the university literally does everything possible to make it super comfortable for everyone."
UFV is home to students from all over the world — 63 countries in this current semester. Some students come to immerse themselves in the language and culture. Others want to experience Canada's education system. Most hope to find employment here at some point — either during their studies or after graduation. And, of course, many of those students aspire to put down roots in Canada by seeking permanent residency and, later, citizenship.
"I'm not exactly sure what Andrii and Daria's aspirations are for life after UFV, but I hope it involves the possibility of going home," says McGuire.
Home. For Tsynda that means FaceTiming her family back in Cherkasy (her mother has returned) every night. Daily, mundane interaction is how they try to replicate life before the war.
"Every time they tell something cute about my dog, and like I share with them how my day went," she says. "I was always really close with my family. And I still am. It's really important to me to check in on them, especially now. Life is fragile and everything changes so fast."
For Zolkin, he is home. Sure, he misses his family — his sister in Ukraine and mother in Poland message almost nightly on Telegram. And he misses the food and his cat. He worries about the safety and well-being of all the people in Ukraine.
"It's important for me to keep these memories because I do not know if my home will still be there when I am able to visit again," says Zolkin, his floppy hair dyed in the blue and yellow colours on Ukraine's flag.
But if living in Canada, then leaving, then returning to Ukraine, then getting caught in the crosshairs of a major scale war, then fighting like hell to return to Canada, has taught him anything, it is to appreciate the little things.
Riding the Skytrain. Hanging out in Delta with his girlfriend and her dog. Ping pong sessions at the dorms.
"It's literally a miracle just to be able to study and live here, and just be safe," Zolkin says. "I will not waste this opportunity."